02 June 2023
CWGC Memorial to Chinese Labour Corps restored in France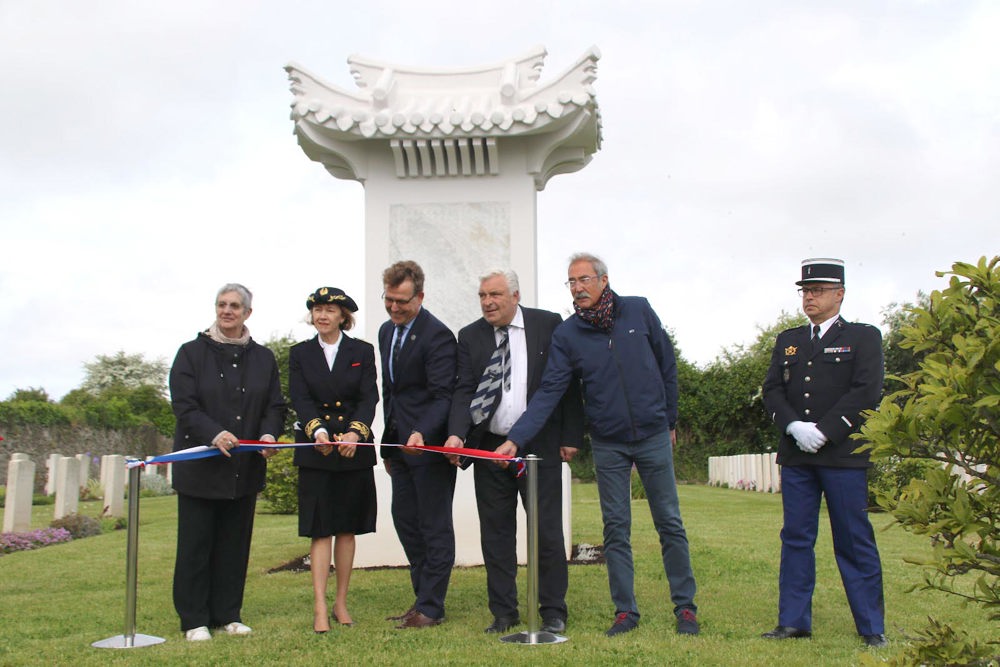 The inauguration of the restored Chinese Memorial at Saint-Etienne-au-Mont Communal Cemetery, France took place on May 23rd during War Graves Week 2023.
The cemetery was part of the Native Labour General Hospital No.2 between 1917 to 1919 established to treat wounded or sick Commonwealth soldiers before being sent back to the front or repatriated to their home countries.
The memorial commemorates members of the Chinese Labour Corps (CLC) formed as a non-combatant part of the British Army whose Chinese volunteers undertook important logistical roles on the Western Front. It forms a central part of the cemetery which contains a majority of CLC casualties, many of whom died of Spanish Flu in 1917 and are commemorated by their distinctively inscribed headstones.
After a detailed study, the Memorial's foundations were reinforced, stripped, repaired, replastered and recoated. The surrounding flower beds and lawn were also revised and relaid to resist the local maritime climate.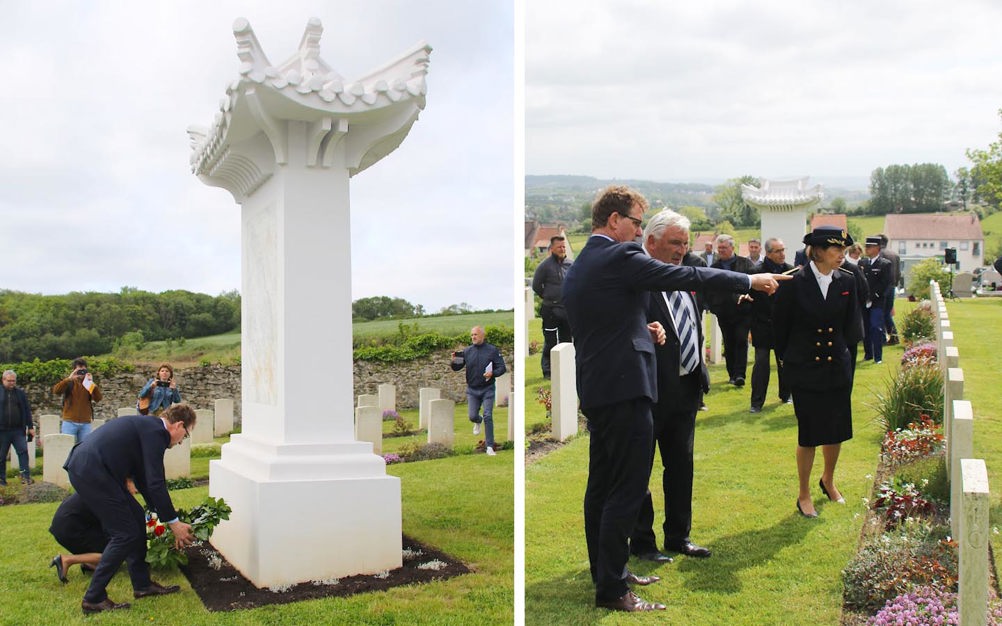 Xavier Puppinck, CWGC Area Director, France said:
"I greet this morning and sincerely thank them – the Commission's horticulture and works teams in France, including the two project managers for this project, Thibaut Molin for the works part and Ilona Lefevre for the horticulture. Ilona having recently changed scope, I welcome the presence here of her replacement, Emmanuelle Courchelle.
At the Commission, which is celebrating its 106th anniversary in May 2023, we are working for the future, for new generations, so that they do not forget. The renovation of our cemetery in Saint-Etienne-au-Mont is fully in line with this mission.
We are proud to have invested the sum of €100,000 in order to restore this very special memorial to its original splendour and thus contribute to the preservation of the local historical heritage.
The CWGC will continue to honour the memory of the Chinese Labour Corps and its role, as well as that of the 575,000 Commonwealth soldiers who fell on French soil for our freedom."
Find out more about the Chinese Labour Corps
See details of CWGC Saint-Etienne-au-Mont Cemetery