24 January 2023
Learn about the World Wars with the CWGC
On this International Day of Education, we'd like to take this opportunity to reintroduce you to some of the resources we offer than can help you learn more about the world wars, about the men and women who we commemorate and about the work of the CWGC around the world.
Start your research journey
Did you know we offer a range of guides designed to help you discover more about the men and women who died during World War One?
Our bitesize guides will take you through the initial steps of researching a casualty – showing you how to get started, info on how our CWGC records can help you to discover more and introducing you to some of the best places to look to find out more information.
This is the perfect way to start uncovering some of your own, or your local history – whether its to find out more about the life of a loved one, or just to find out more about the headstone you walk past everyday on the way to work.
Start researching with our guides
Learn about your local history
It may come as a surprise to some, but in terms of individual sites, Britain is our most densely populated region, with war graves at more than 12,000 locations. These range from some of our largest, most well-known cemeteries and memorials, including Brookwood Military Cemetery and Runnymede Air Forces Memorial, through to individual graves in local cemeteries and churchyards.
All this means that you're never too far away from a slice of world war history.
We've put together a comprehensive guide to each of our regions in Britain, highlighting some of our most important and interesting sites. You'll find detailed historical information about each site, as well as some context about the wars, and about those we commemorate there.
Whether you want to learn more about your local area, or are planning a trip away, our guides are the perfect place to learn more about our work in Britain.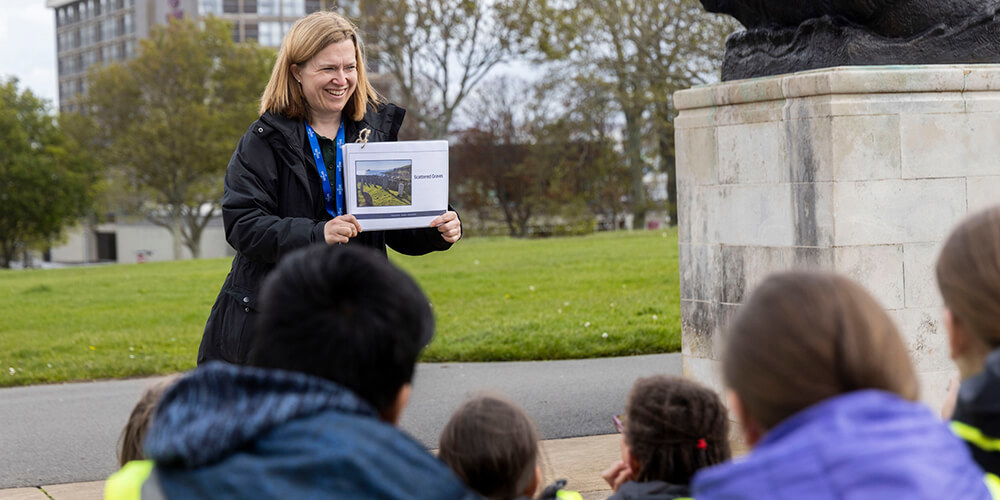 Book CWGC talks and tours
Whether you're a school group, youth group, a local interest group with a passion for history – we've got a talk or a tour that'll be perfect for you.
Our trained speakers are ready and available to visit your school or organisation – we can offer a range of talks covering many aspects of our work around the world, including our history during the world wars, research and records in the CWGC Archives, horticulture, architecture and conservation.
Or you can join us at one of our sites near you! We have expert tour guides available in each of our regions around Britain, available to deliver free guided tours around a CWGC cemetery or memorial local to you. Each tour concentrates on our ongoing work, alongside some of the stories of those that are commemorated at our sites.
Whether you come to us, or we come to you, we look forward to meeting you soon.
Look out for our brand new education resources which will be launching this spring, enabling young people to learn more about the scale of the world wars and those who fought in them, as well as discovering our on-going work to recover and identify those still missing from the First and Second World Wars - https://www.cwgc.org/our-work/outreach/