17 August 2023
Loos British Cemetery Extension update August 2023
Work on the Loos British Cemetery Extension in France is well under way with the installation of the beams.
These are buried in the ground to support and align the headstones. At first glance, this installation may seem straightforward, however it turns out to be a precision job requiring perfect alignment.
What makes a seemingly simple job more challenging is aligning the new beams with the rows of headstones in the existing neighbouring cemetery in order to continue the perspective while keeping to the original specifications for the width of the aisles.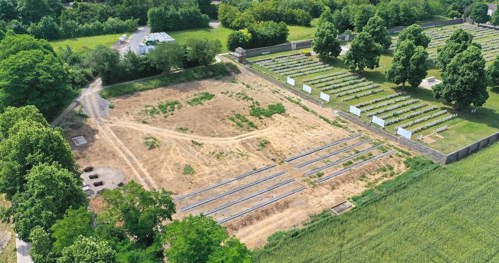 There are 300 beams, each is 3 metres long and weighs 450kg so they require careful handling and monitoring. This is done on the ground and from above by drones to ensure perfect alignment before setting in their final position. Once set, they will be covered over to await the installation of the individual headstones as and when required.
Click this link for more information on the Loos British Cemetery Extension.