22 September 2022
Memorial to members of Force K6 unveiled in Kingussie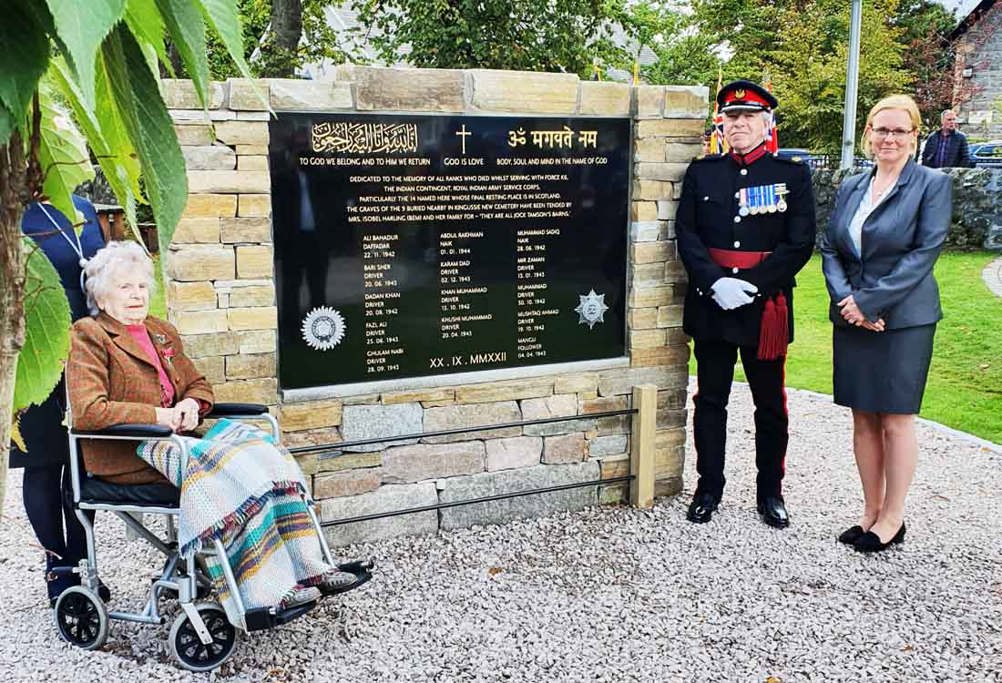 A permanent memorial to the men of Force K6 (later re-named the Indian Contingent) who served in the AT (Animal Transport) companies of the Royal Indian Army Service Corps (RIASC) has been unveiled in Gynack Memorial Gardens, Kingussie, Speyside, Scotland.
These Muslim and Hindu troops played an important role at Dunkirk in 1940 and from June 1942 were billeted in Badenoch and Strathspey for their winter warfare training in the Cairngorms. Fourteen of their number died in Scotland either from accidents or illness and are commemorated on the memorial.
Majority funded by Highland Council, with a donation from the Scottish Ahlul Bayt Society, the memorial is made from imported Indian sandstone mixed with locally sourced Cairngorm granite, engraved and adorned with gold leaf by Inverness monument makers, Andrew Stewart and Son Ltd.
It was unveiled by Isobel Harling a former WREN who lost her brother in Belgium and has watched over the nine K6 soldiers buried in the Kingussie Cemetery for more than 70 years, placing poppies on the headstones on the anniversaries of each death referring to them as 'My Boys'.
A tour of Kingussie Cemetery was given by the CWGC after the unveiling.
Isobel Harling with Warrant Officer Ashok Chauhan of the British Army and Sehar Sardar CWGC Public Engagement Coordinator Scotland (South and West). Photo: Sandy McCook
Project leader Heather Taylor, a Major in HQ Army Scotland and HQ 51st Infantry Brigade said:
This has been the culmination of six years' work. It has been an honour to play a part in bringing this Living Heritage to life in memory of not just these soldiers, but the wider Highland community and their fond affection for the men of Force K6 during their posting here."
Chair of Highland Council's Badenoch and Strathspey area committee Bill Lobban said:
"This memorial serves as a poignant and permanent reminder of their story and recognises their shared sacrifices in war time."
Puneet Dwivedi, from Hindus in Scotland, said:
"It is really important to me and I'm really thankful to everyone involved. It's very significant to the Hindu community to recognise the fallen soldiers."
Nasim Azad, from the Muslim Council of Scotland, said a prayer at the memorial:
"It's important to recognise the sacrifice of the soldiers who had come such a long distance to fight for what was right. I hope the memorial is all about what happens next. This information should be shared far and wide, including in schools."
Sir Alistair Irwin, former president of Legion Scotland and former Vice Chairman of the CWGC, said it was the moment to think of the men and their families:
"When they arrived in these parts, they would all have had hopes of returning to their own homes. But fate was to dictate that they, unlike so many of their more fortunate comrades, would never again see their families or their homeland. Here they lie, dead these last 80 years or so, but not forgotten, especially by the people of Kingussie. They have become our sons as well."