15 October 2020
Re-engraving project in Malta completed
Passing on the baton
More than 1,000 commemorations in Malta have been re-engraved. The work all took place inside one of the Commonwealth War Graves Commission's largest cemeteries on the Mediterranean island, Pieta Military Cemetery. 
The project began at the end of last year with a group of staff from our Turkish team who spent two weeks starting the engraving work and using their experience to train up our local team in Malta. Due to recent travel restrictions it wasn't possible for the Turkish team to return, and so our Maltese team were able to use the skills passed on to them earlier in the year to finish the job.
In total, 1,021 war commemorations were carefully re-engraved by hand, including the intricate cap badges, casualty names and the moving personal inscriptions selected by the next of kin.
By re-engraving stonework, rather than replacing it, we are able to prolong the lifespan of this finite resource and better conserve the heritage under our care. Due to the shallow earth and hard rock underneath the island's surface, most Commonwealth burials here are marked by flat headstones bearing many names, instead of the upright headstones we commonly use elsewhere in the world.
Border force
As the autumn weather settles in in northern Europe our gardeners in France have completed one of their big annual jobs for this season.
Our neat lines of floral borders in cemeteries don't look after themselves. An important part of keeping them up to our high standards is to look after the soil, maintaining  the levels at the right height and ensuring it has the necessary nutrients to make sure the plants perform – a job that keeps our teams busy year after year.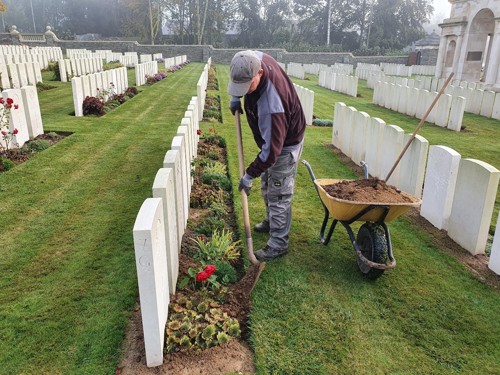 CWGC gardener Jeremy Golombek filling up the borders at Serre Road Cemetery No.1
In the Somme region they have just finished adding more than 2,000 tons of soil and compost to the borders of 24 cemeteries.
Our experienced team first visit each site to assess how much material is needed, and carefully adjust ratios of soil, compost and sand to meet the needs of the planting at each location.
Creating the best soil conditions means that the roses, herbaceous and alpine plants have the best possible chance to thrive and survive and helps them also withstand the unusual weather patterns we are now regularly experiencing.
Learn more about our war graves in Malta and Malta's fascinating war history.