23 May 2023
War Graves Week at the Houses of Parliament
Claire Horton CBE, Director General, CWGC, The Rt Hon. Penny Mordaunt MP (Leader of the House of Commons), Iain Lower CB, Director of Global Strategy and Commonwealth Relations, CWGC.
On Monday 22 May the CWGC was proud to hold a reception in the Churchill Room in the House of Commons to mark War Graves Week 2023.
Hosted by our Commissioner, The Rt Hon. Philip Dunne MP, we were joined by 70 parliamentarians, dignitaries and other guests. Attendees included the Rt Hon. Penny Mordaunt MP (Leader of the House of Commons), Baroness Goldie LD (Minister of State at the Ministry of Defence), Rt Hon. Anne Marie Trevelyan MP (Minister of State FCDO), Rt Hon. John Healey MP (Shadow Secretary of State for Defence), Rachel Hopkins MP (Shadow Armed Forces Minister), Ambassador Hélène Duchêne (The French Ambassador in London), His Excellency Hon Phil Goff CNZM (New Zealand High Commissioner) and Bart Brosius (General Representative of Flanders in the United Kingdom).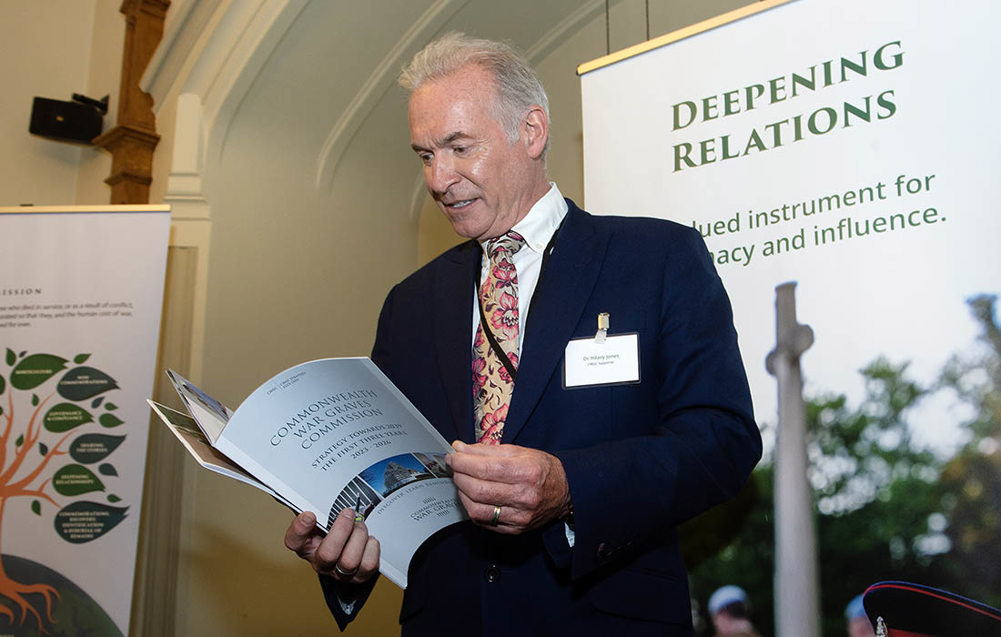 Guest Dr. Hilary Jones reading the CWGC Strategy.
Guests saw advance highlights of CWGC's new film, and heard Baroness Goldie speak about the importance of CWGC's work before our Director General Claire Horton CBE introduced the new CWGC strategy and spoke of CWGC's plans for the future of commemoration. Claire's talk covered some of CWGC's innovative work from the development of enzymes to replace the use of chemicals in the care of our stonework, to the latest smartphone app powered by Memory Anchor – that will allow visitors to our sites to learn more about the Commonwealth war dead we commemorate.
This is just one of our War Graves Week events that are in full flow across the UK, Europe and around the world. We've already held a number of fantastic events with yet more to come throughout the week and into the weekend.
It's not too late to get involved, have a look at our upcoming events and book a spot on one of our tours.
Can't make it to one of our events?
If you can't make it to one of our sites during War Graves Week, check out our website and explore some of our digital tools that can help you discover more about the work of the CWGC, about the men and women we commemorate and might even inspire you to take a trip to one of our sites in the future.
Keep up to date, sign up to the CWGC newsletter
Sign up to our mailing list for regualr updates on our work.
Newsletter sign up
Download our FREE apps
We have a selection of FREE apps to download designed to help find our sites and enhance your visit.
See our FREE Apps
FIND WAR DEAD WITH OUR SEARCH TOOL
Our database holds records for 1.7 million Commonwealth men and women who died in both world wars.
Search our casualty database
WHO LIVED ON YOUR STREET?
Use our postcode search tool to discover more about your local history and casualties.
Use our postcode search