What kind of grave headstones will I see?
While the standard Commonwealth War Graves Commission headstone is instantly recognisable, there are many facets of our headstones that can tell you a lot about the casualty it marks and the land it stands on.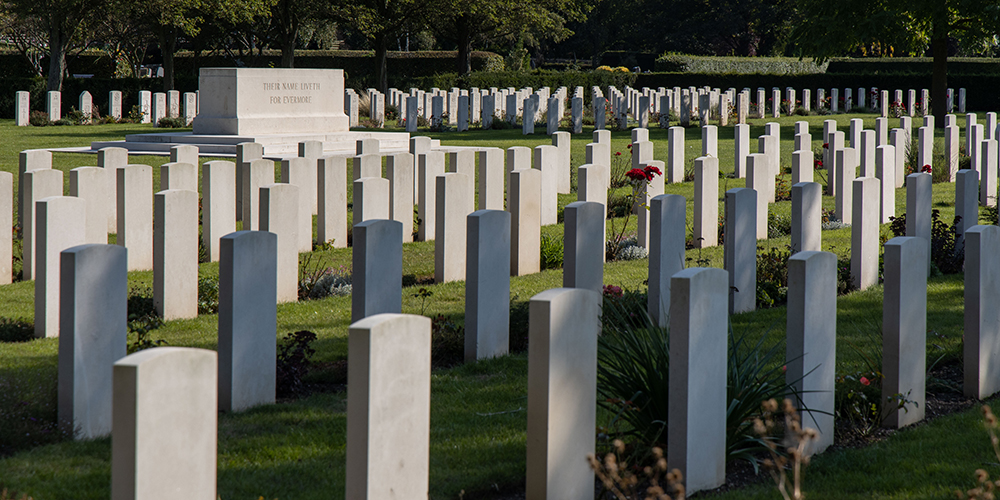 Types of headstones
While the Commission ensures that each of its war dead is commemorated equally, you will see some variation in the types of headstone or marker used.
CWGC Cemetery headstones
Most commonly, you will see the standard CWGC headstone. Each headstone will be inscribed with the details of the individual, including name, rank, awards, service number, religious emblem and a personal inscription provided by the family. You will likely also see a regimental crest or badge at the top of each headstone.
Unknown soldier memorial headstones
You may also see the headstones of unknown soldiers, also referred to as 'Known Unto God' headstones after the words, chosen by Rudyard Kipling, which are inscribed in place of the usual personal inscription. These headstones mark the graves of soldiers who couldn't be identified before they were buried. Where possible, any information that could be found has been inscribed, so some may say 'A soldier of the Great War' or 'A soldier of the Second World War'. For example, if their nationality was known, this will inform the description.
All unknown service men and women have their names inscribed on one of our Memorials to the Missing.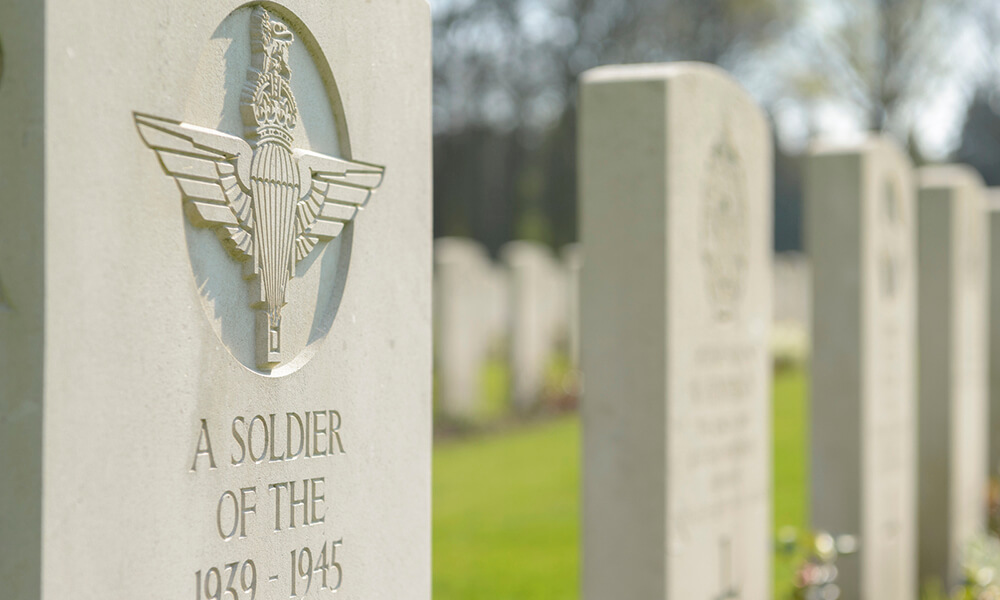 Different shaped markers and headstone shapes
Depending on the type of casualty, the location or even the size of the war cemetery, you may find sites with different types of markers.
Pedestal markers 
Instead of the usual Commission headstone, some cemeteries will instead use pedestal markers, for example in Gallipoli or across many countries in the Far East. These are small rectangular concrete bases with a stone or bronze plaque attached. These are often found in areas where the soil and weather conditions wouldn't support a standard headstone, or where the Commission doesn't have permission to erect a standard headstone.
Flat headstone markers
A flat, or recumbent, marker can be used to display multiple casualties in one spot, either in the event of a lack of space in the cemetery or where multiple casualties have been buried together, for example at Edinburgh (Comely Bank) Cemetery where there were many burials in a limited space, meaning flat markers were required to prevent an overcrowded feel that would've come from individual headstones.
They can also be used in sites like Wimereux Communal Cemetery where the soil or weather conditions are unable to support the usual standing headstones.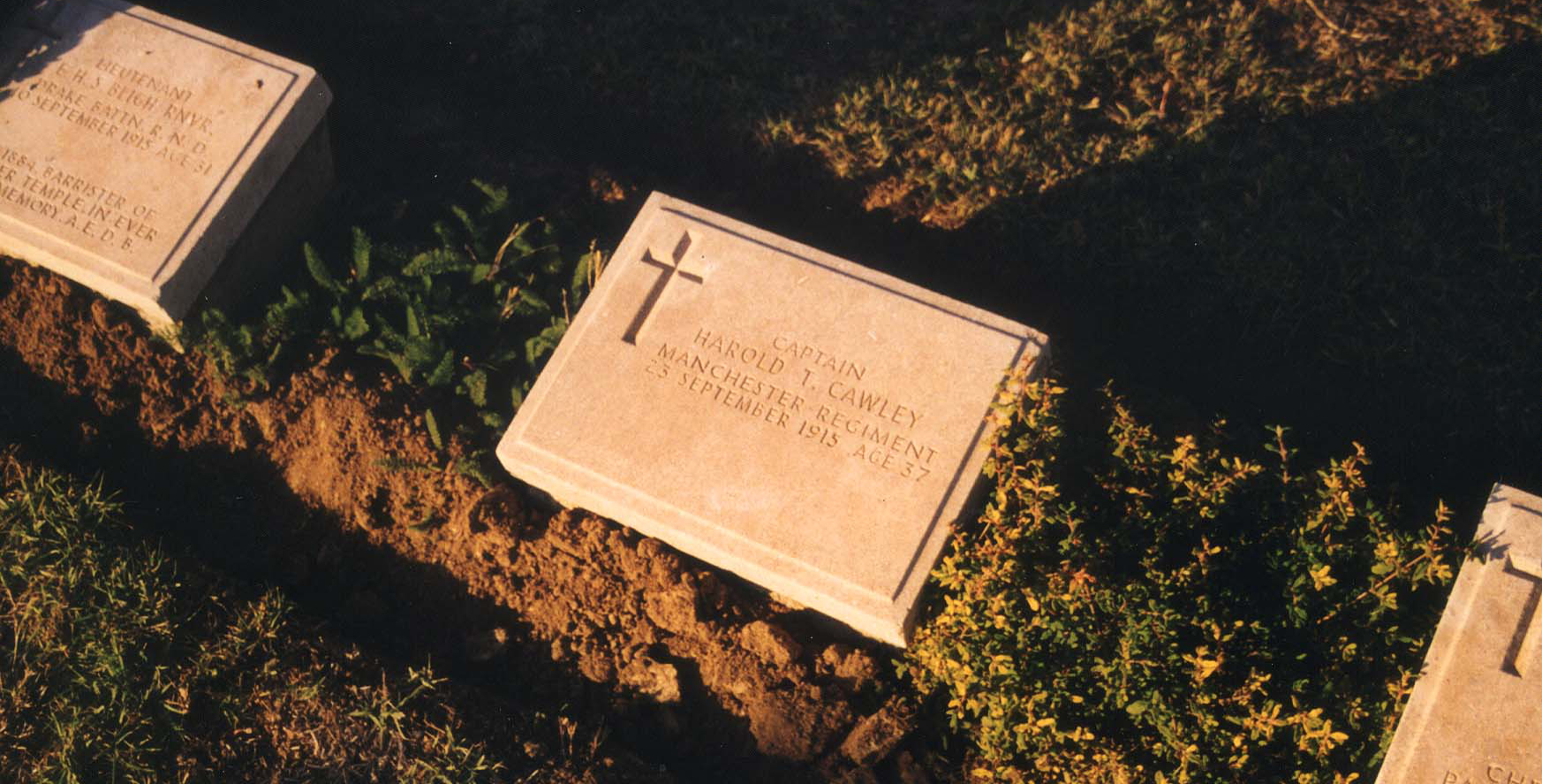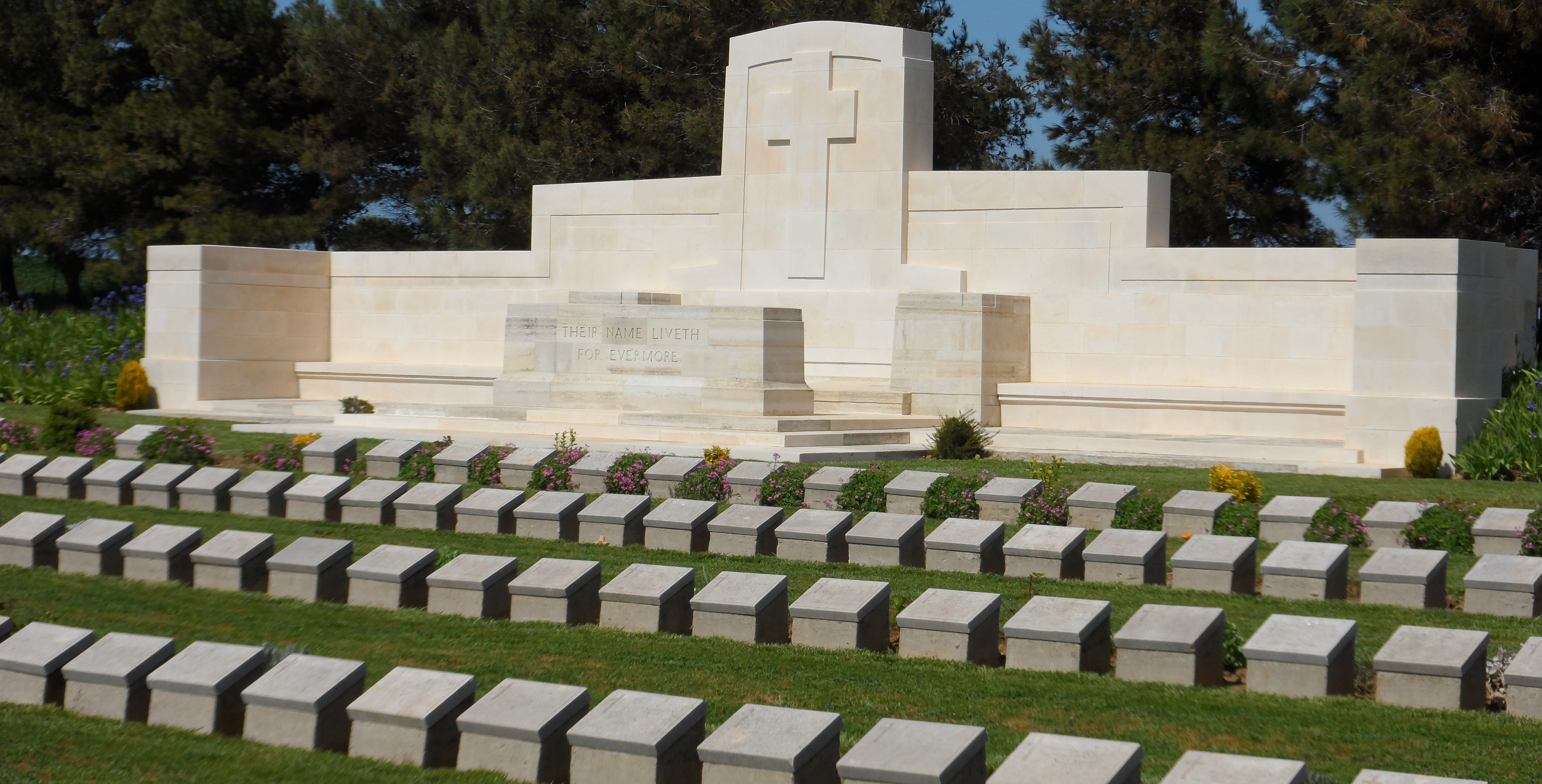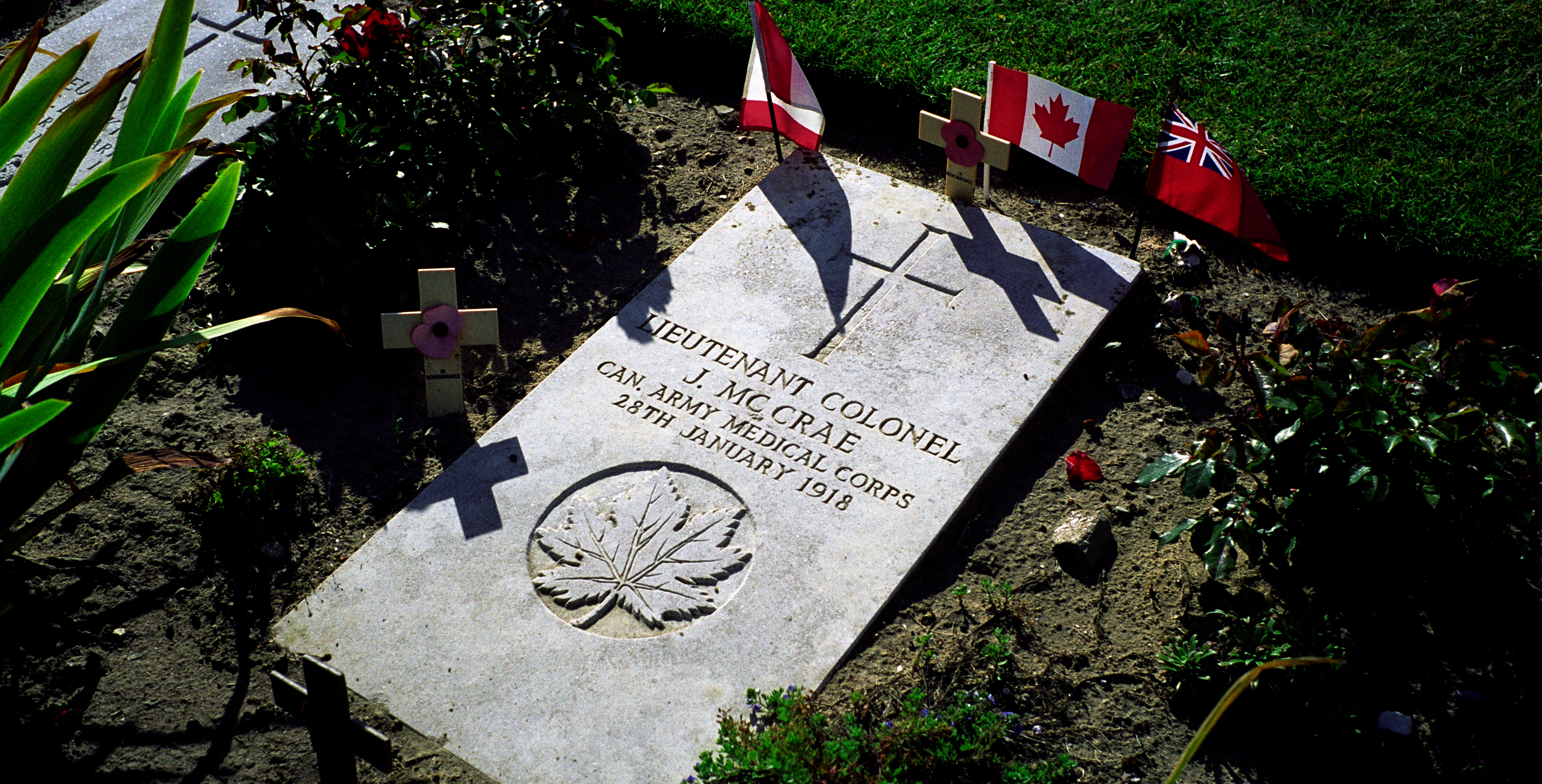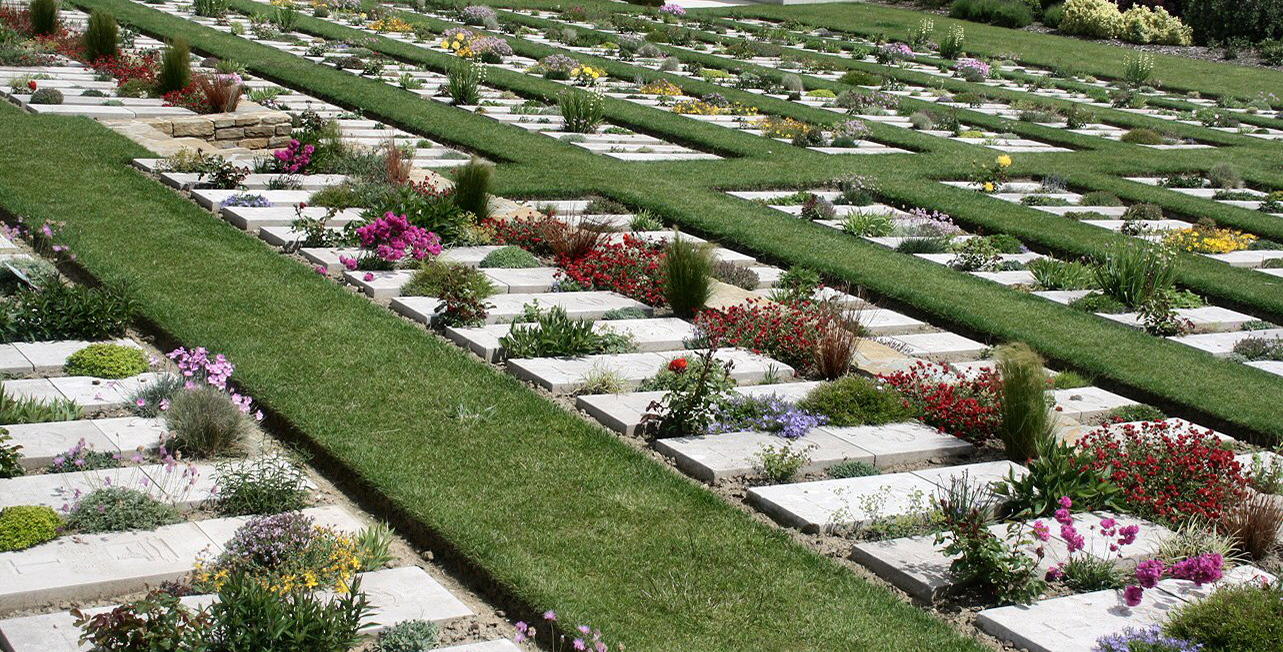 Headstones of Foriegn Nationals
As well as the Commonwealth casualties, CWGC also commemorates a number of foreign nationals, so depending on the cemetery you visit, you may see some headstones that are different shapes and sizes as many countries have their own marker types. In some cases, there may even be different style marker types within one country.
Cross headstone markers
Occasionally, the headstone shapes can vary due to the faith of the person they commemorate. French war graves are marked with a cross shaped headstone for Christian burials and a regular shaped marker for other faiths.
American burials, such as the ones found at Brookwood, are marked with cross shaped headstones for Christian burials, whereas Jewish casualties are marked with the Star of David. 

Is there a difference between a headstone, gravestone and a tombstone?
A headstone is a vertical standing stone placed at the head of a grave. Unless we use a recumbent (flat) marker or a pedestal marker, all of our graves are marked with headstones. 
Tombstones and gravestones usually refer to large stone slabs that cover a tomb or grave, usually with ornate engravings or other designs. These are not found in CWGC cemeteries, but you may come across an occasional private memorial with one in a civilian cemetery or burial ground. 
Explore some of the different CWGC headstones yourself by visiting our war cemeteries and memorial sites.
Read our full Conservation policies
Our Conservation Policies reflect our aim to manage change whilst sustainably caring for our sites.
Conservation Policy 2020