14 April 2022
A legacy left in their art, the fallen artists of World War Two
Two months after the Second World War began, the young Director of the National Gallery, Sir Kenneth Clark, chaired the first meeting of the War Artists Advisory Committee (WAAC). He had proposed the idea and the government had finally approved it. On a dark November afternoon in 1939, they met to begin drawing up 'a list of artists qualified to record the war at home and abroad…to advise on the selection of artists on this list for war purposes and on the arrangements for their employment'. The WAAC would appoint official artists and acquire art works from other artists, professional and amateur, in order to record the war through artists' eyes.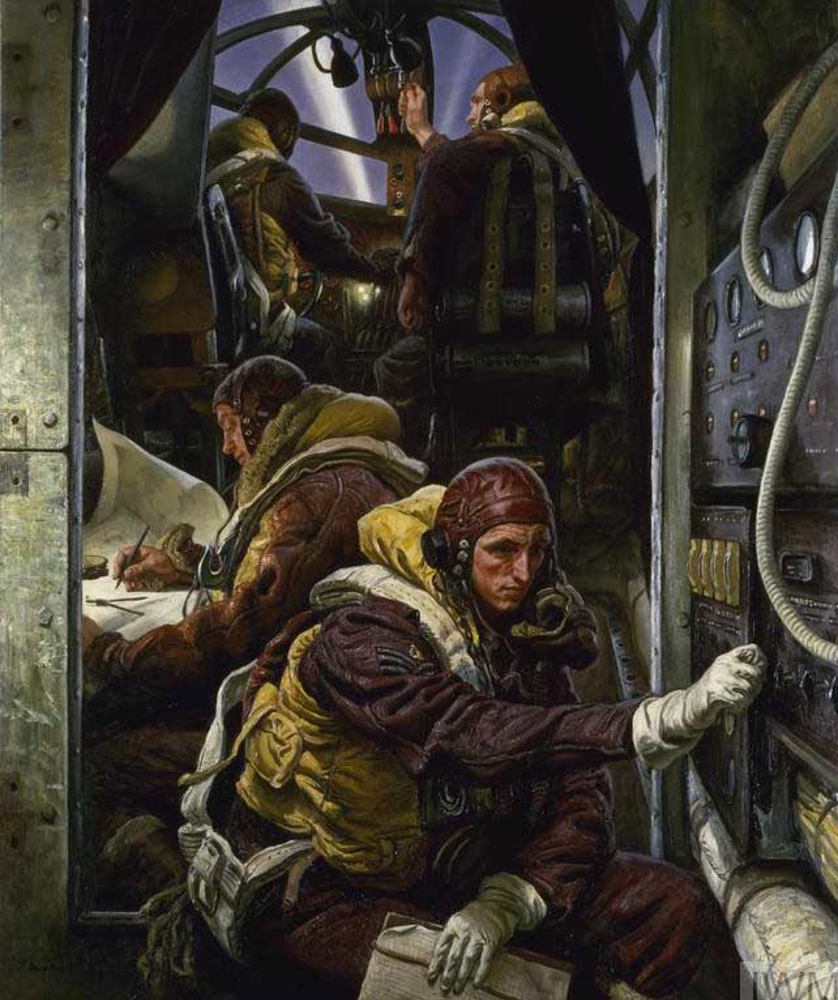 Take Off © Laura Knight. IWM ART LD 3834
Six years later it would be wrapped up, having collected over 5,500 works of art from over 400 artists. The War Artists Advisory Scheme, administered by the WAAC, would hire 37 artists with full-time salaried contracts. Over 100 artists undertook short-term contracts for them. While Clark believed an artistic record of the war to be vital, he also wished to find a way to keep artists employed, and, in some way, perhaps prevent the loss of artists that occurred during the First World War. But to draw and paint the war one had to see it: some 28 artists were given overseas commissions by the WAAC, and of these, three would die while serving.  
Eric Ravilious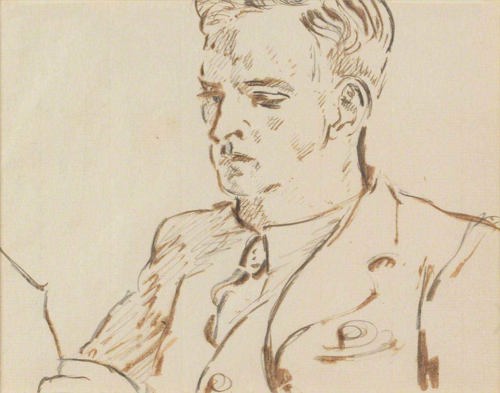 Eric Ravilious by Thomas Hennell © Fry Art Gallery
When the war began, Eric Ravilious was the same age as Sir Kenneth Clark – 36. He was already an established artist with three successful solo exhibitions behind him, and had lent his work to the 1937 'Artists Against Fascism' exhibition. Born in London, he had moved to Eastbourne as a small child, where his father had an antiques shop. He won scholarships to study art, including one to the Royal College of Art, where he became close friends with Edward Bawden who would also become a WAAC artist. In 1930 Eric married fellow artist, Eileen Lucy 'Tirzah' Garwood; they had their second child just days before war was declared.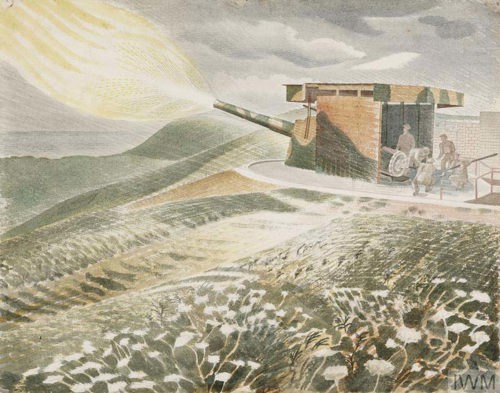 Firing a 9.2 Gun © Eric Ravilious. IWM ART LD 1585
Eric was one of the first official artists appointed. Salaried war artists were commissioned into the armed services – for Eric, the Royal Navy. He painted ships at sea, dockyard scenes, coastal defences, and in 1941 he spent time with the Royal Naval Air Service, writing 'these planes and pilots are the best things I have come across since this job began.'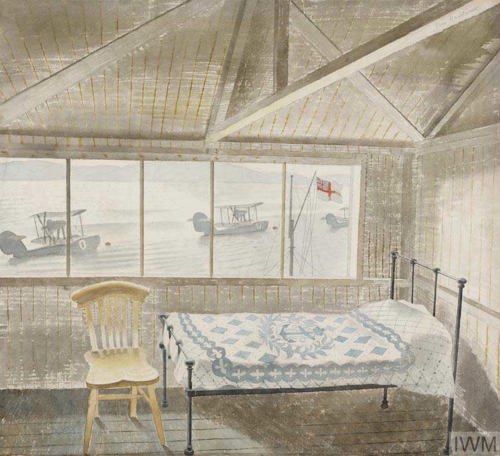 RNAS Sick Bay, Dundee © Eric Ravilious. IWM ART LD 1719
In 1942 his wife became seriously ill and Eric was posted closer to home, now painting the RAF. In August, with his wife's permission, he accepted an overseas posting, leaving her and his three young children to fly to Iceland. The day after he arrived, he was offered the chance to go on a search and rescue flight, seeking an aircraft that had failed to return from an anti-submarine mission. The Hudson carrying Eric disappeared at sea also. We commemorate him by name on our Chatham Naval Memorial to those lost or buried at sea, just a mile from the dockyard where he painted one of his WAAC commissions, 'A Warship in Dock'.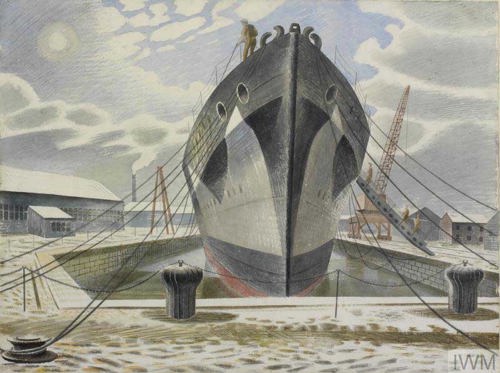 A Warship in Dock. 1940 © Eric Ravilious. IWM ART LD 70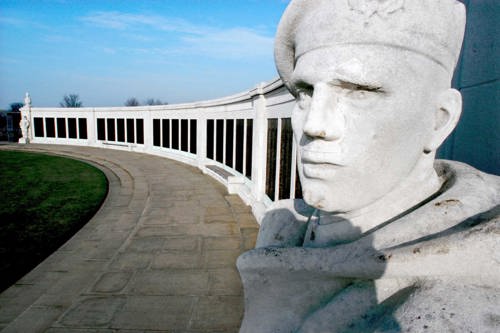 CWGC Chatham Naval Memorial
Albert Richards

 
Only 18 years old when the WAAC was created, Albert Richards had just started at the Royal College of Art when he was conscripted into the army in 1940. Albert was born in Liverpool and attended Wallasey School of Art before winning a scholarship to the RCA. His father had served in the First World War and worked as a wood machinist. Albert joined the Royal Engineers, serving as a sapper from April 1940 until mid-1943.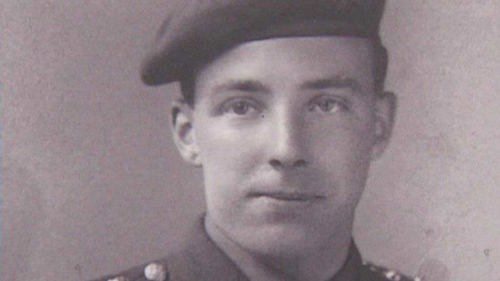 Albert Richards in uniform with para beret, credit: © Walker Art Gallery
He found some time to paint alongside his duties building barracks and defensive works around the UK and submitted some of his paintings to the WAAC. Impressed by them, the Committee began to buy his art, and in 1943 they offered him a contract as a war artist. Earlier in 1943 he had volunteered for parachute training, in order to serve as an airborne Royal Engineer. As a trained parachutist, and now a war artist, Albert took part in 1944 training exercises for the D-Day landings.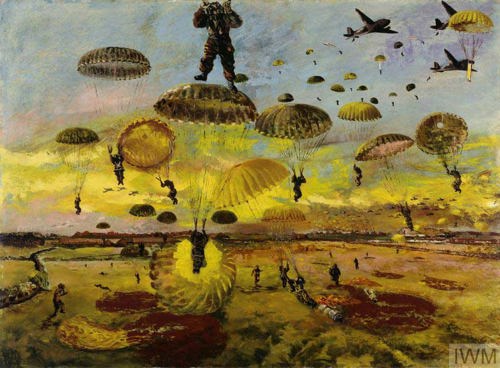 The Drop. 1944 © Albert Richards. IWM ART LD 3924
On D-Day itself, he landed by parachute as part of the 6th Airborne Division, among the first Allied troops to set foot in Normandy that day. He took part in their famous attack on the Merville Battery and the capture of a key village, Le Plein.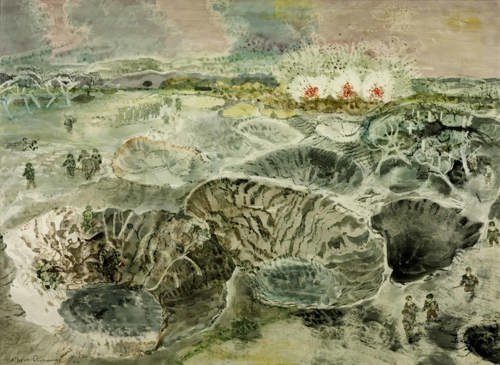 Withdrawing from the Battery after the Battery's Guns Had Been Destroyed. 1944 © Albert Richards © TATE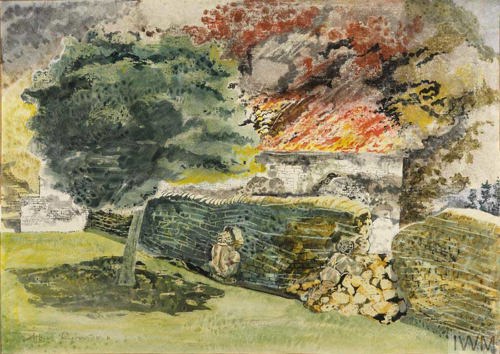 At the Village of La Plein: There were constant watch for snipers hidden in the village, 1944 © Albert Richards. IWM ART LD 4197
He stayed with the Allied forces as they advanced through France and re-joined them in the Low Countries over that autumn and winter. He had to stop working in oils because it was too cold to squeeze them from their tubes. One of his last pictures, in February 1945, depicted Allied sappers building a bridge across the flooded River Maas. He was killed near Gennep when, trying to find a short-cut towards a night attack he wanted to paint, he drove his jeep over a landmine. He was the youngest official war artist and died aged 25, two months before the war in Europe ended. 
His parents, whose home had been filled with his art, took it all down.  
We care for his grave in Milsbeek War Cemetery in the Netherlands. His mother and father requested his headstone be inscribed  
TO THE DEAR MEMORY
OF BERTIE
OUR ONLY CHILD
"O VALIANT HEART"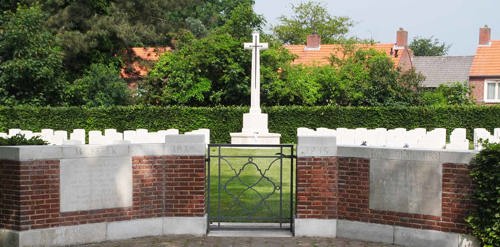 CWGC Milsbeek War Cemetery
Thomas Hennell

 
Thomas Hennell was born and raised in Kent, the son of a Reverend. He studied art at Regent Street Polytechnic and qualified as a teacher in 1928. He wrote as well as drew and his special subject was rural life. When his friend Eric Ravilious went missing, Thomas was hired to take over his commission to Iceland. Like Eric he was placed in the Royal Navy. In 1944 he painted preparations for D-Day and then took part in the invasion, spending two months with the Canadian First Army as they fought across Normandy, switching to another unit to record the advance into Belgium and the Netherlands.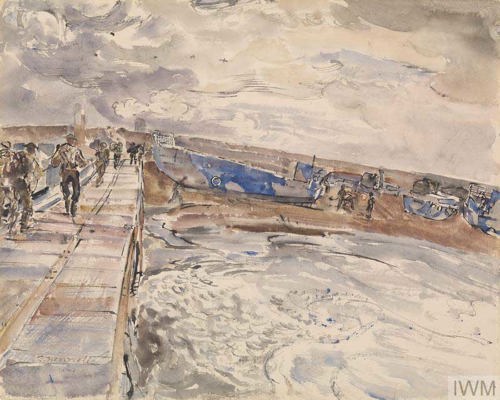 Troops going Ashore over a Pontoon, Normandy, June 1944 © Thomas Hennell. IWM ART LD 4205
In May 1945 with war in Europe over, he agreed to a commission for the Air Ministry taking him to the Far East where war continued. He flew to Rangoon; on VJ Day he was in Colombo, where he boarded HMS Hunter bound for Penang.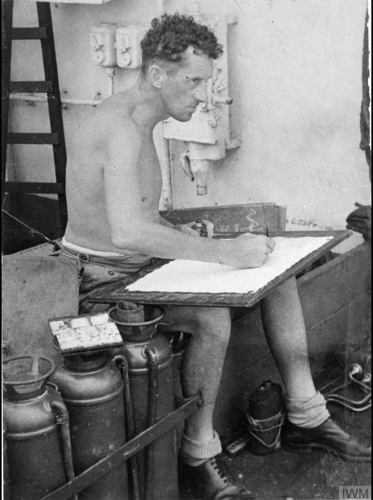 Hennell sketching on deck, HMS Hunter © IWM HU 57949
After sending some pictures to the WAAC from Singapore, he wangled a flight to Java, perhaps unaware of the simmering post-war violence there. Thomas was taken prisoner by a group of Indonesian nationalists and presumed killed; his body or a grave were never found. The Air Ministry reported the incident to the WAAC in November 1945, and one of the committee members had to tell his mother that another of her sons had died in the war.  
Like Ravilious, as a missing member of the Royal Navy Hennell is on our Chatham Naval Memorial, returning his name to his home county at least.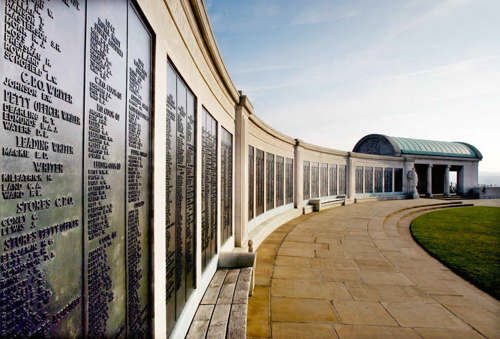 CWGC Chatham Naval Memorial
Hennell, Richards, Ravilious - these three are the only official war artists to have died, but many artists put aside their pre-war careers while serving. Some of them were killed also – among them Clive Branson, whose grave we care for in Taukkyan War Cemetery in Burma, and 'Rex' Whistler who is in Banneville-la Campagne War Cemetery in Normandy.    
Many years after the war, Sir Kenneth Clark was interviewed about his War Artists Advisory Committee and was reminded of Albert Richard's death. Clark mused, 'I started this scheme very largely to prevent artists from being killed and I hadn't any success in that at all.' The efforts of Clark's WAAC and its artists did succeed at leaving for us a large collection of significant works of art covering a huge range of wartime subjects, enriching our understanding of the war and people's lives in it.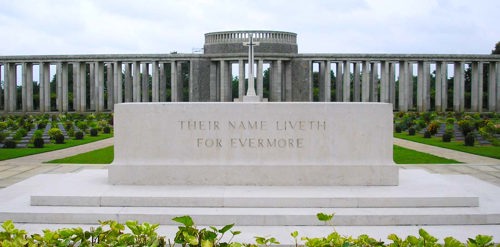 Taukkyan War Cemetery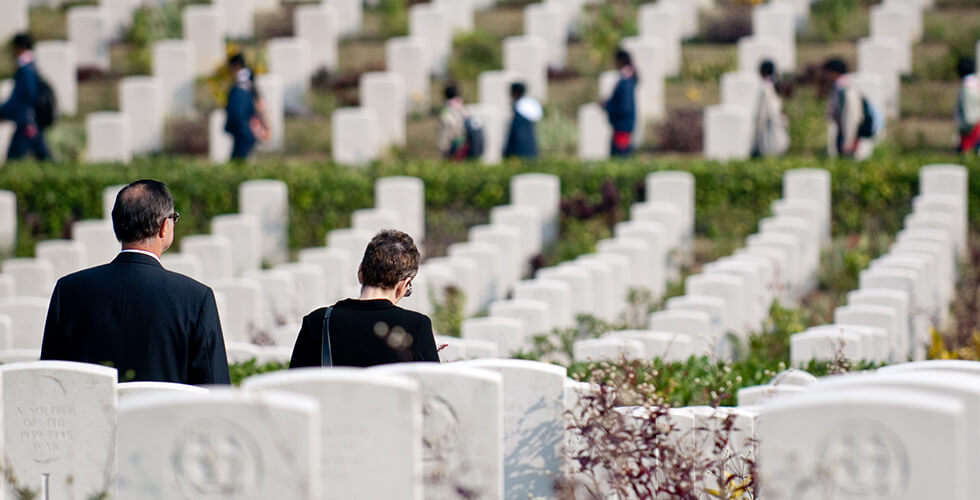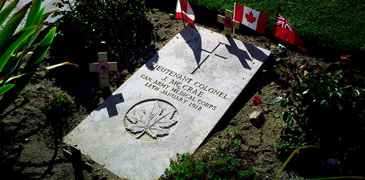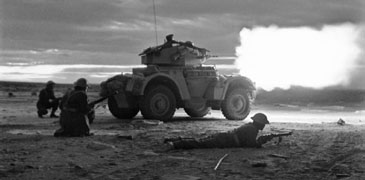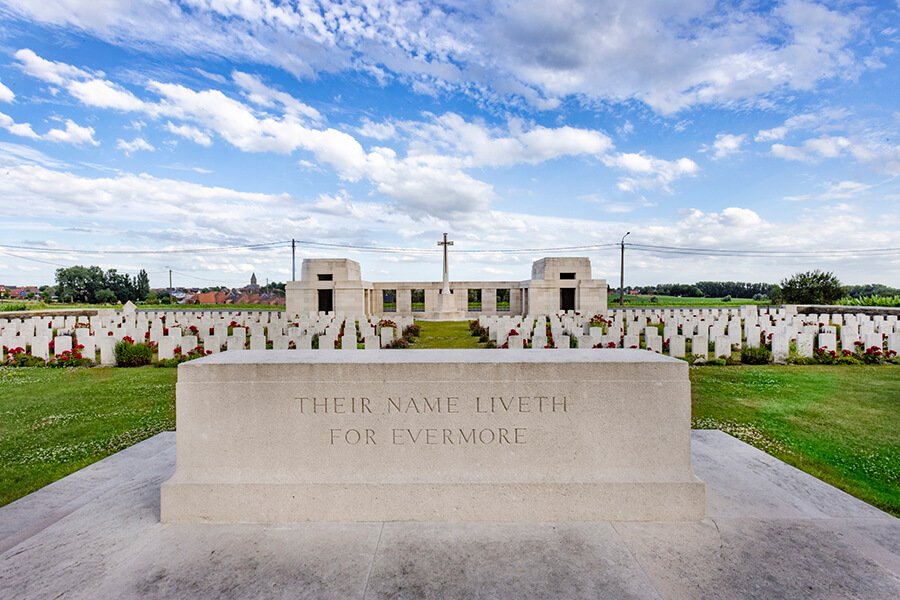 Read more blogs