03 August 2021
Remembering the fallen for South Asian Heritage Month
Hundreds of thousands of people from across South Asia fought and died during the two World Wars. From 1914-1918 close to 1.5 million men from what was then Undivided India served, fighting in all the major theatres of war, from Flanders' fields in Belgium to present-day Iraq. With 2.5 million men, the Indian Army of the Second World War was the largest volunteer army in history. During South Asian Heritage Month, we're highlighting a small handful of remarkable individuals who gave their lives serving with Commonwealth forces during the World Wars.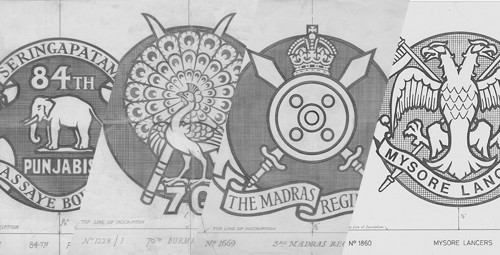 Pandit Piaraylal Atal
Born in 1872, Pandit was the son of Kishanlal Atal, the Private Secretary to the Maharaja of Jodhpore, and the grandson of the former Prime Minister of Jaipur State. He grew up in Jaipur but attended medical school in Lahore. After graduating he travelled to England and continued to study medicine.
Pandit joined the British Army in 1899, and before the outbreak of the First World War he served at home in India and in China, reaching the rank of Major. During the First World War he served as a medical officer with the 129th Duke of Connaught's Own Baluchis. He was in the thick of the action several times and was mentioned in dispatches for attending the wounded while under fire.
This remarkable 43-year-old veteran soldier died on 23 November 1914, when the medical post he was working in was hit by enemy shell fire. He left behind a wife and five children. He is commemorated by name on CWGC's Neuve-Chapelle Memorial in France.
Discover More about Pandit Piaraylal Atal
Noor Inayat Khan
Armed with a false passport and a pistol, Noor became the first female radio operator to be sent to Nazi–occupied France. Noor served with the Women's Auxiliary Air Force and was seen as an unlikely candidate to engage in espionage in the Second World War, but she did so with a "steely strength of will".
During her mission she was captured and tortured for information but never gave anything away and was eventually executed by the Nazis. Noor was killed on the morning of 13 September 1944. She was 30 years old. She is commemorated on the CWGC's Runnymede Memorial. In 1949 Noor was posthumously awarded the George Cross, the highest civilian award for bravery. To discover more of Noor's story, explore our interactive exhibition at Runnymede Memorial. 
Discover More about Noor Inayat Khan
Yousif Ali
Yousif Ali was born in 1905 in Sylhet, India (now in Bangladesh). In the early 1920s his family moved to England. Yousif worked aboard merchant ships and regularly travelled back to India until he married Ethel Wallace. Ethel's parents disowned her because of the marriage.
Yousif worked in London as a court interpreter for Indian seamen, and also as a doorman at the Veeraswamy Restaurant in Piccadilly. He was sacked from the restaurant in 1931, when he was identified in a photograph with Mahatma Gandhi, leader of the Indian independence movement. At the outbreak of the Second World War, Yousif enlisted in the RAF Volunteer Reserve, working as a cook.
After the conflict, he was serving in Europe when he fell ill. He died on 12 May 1947 and was buried in Woking Muslim Burial Ground. Ethel was left a widow at 37 with four children. In 1969, the graves from Woking were moved to Brookwood Military Cemetery so they could be cared for in perpetuity.
Photo credit: Sophena Chisembele.
Discover More about Yousif Ali
Subedar Subramanian
Subedar Subramanian was born in the village of Keezha Ottivakkam, near Kanchipuram, India, on 18 December 1912. A married man, he enlisted to the Queen Victoria's Own Madras Sappers and Miners on 15 October 1932.  
On 24 February 1944, Subramanian was serving in Mignano, Italy (roughly 10 miles south-east of Cassino). His team were working their way through a minefield with mine-detectors, clearing and marking a pathway for following troops, when one of his comrades accidentally stepped on one of the mines they were marking.
Subramanian instantly threw himself onto the mine that was about to detonate, protecting the rest of his team from the blast. He was killed instantly, but his comrades survived to tell the tale. Subramanian was posthumously awarded the George Cross on 30 June 1944 – the first Indian serviceman to receive such an honour. He is commemorated on the CWGC's Sangro River Cremation Memorial in Italy.
Discover More about Subedar Subramanian
Fazl Din
During the fighting in Burma in March 1945, the Indian 17th Division led the advance on Meiktila. Amongst those fighting was Naik Fazl Din of the 7th Battalion, 10th Baluch Regiment, a Jat Muslim from the Hoshiarpur District of Punjab who'd joined the army shortly after the outbreak of the war.
On 2 March, Fazl Din was commanding a section during an attack when they came under fire from several Japanese bunkers. Unhesitatingly, Fazl Din personally attacked the nearest bunker with grenades, then led his section against the other bunkers under heavy fire. He was assisting his Bren gunner when they were attacked by a Japanese officer wielding a sword. Fazl Din was mortally wounded by a sword blow but when the Japanese officer withdrew his sword, Fazl Din grabbed it from his hands and killed him with it. Despite his terrible wound, he continued to fight and encourage his men, before staggering to HQ to make a report. He died soon after. He was 24. He was posthumously awarded the Victoria Cross. He has no know grave and is commemorated on the Rangoon Memorial, Face 39. 
Photo credit: Baloch Regimental Centre 
Discover More about Fazl Din
Kartar Singh
In December 1941, the Japanese invaded Borneo. The country was defended by only a single battalion of the 15th Punjab Regiment, along with attached support and some locally raised security units. With no hope of stopping the invasion the beleaguered defenders fought a brilliant campaign which slowed the inevitable Japanese advance and allowed key airfields and oilfields to be destroyed. 
During the fighting Subadar Kartar Singh, son of Udham Singh and husband of Chandi, of Khusropore, Jullundur, led a section of soldiers. Kartar Singh, showing complete disregard for his personal safety, was killed whilst directing the fire of Dutch mortars onto the Japanese positions, driving the enemy from their trenches.
He was posthumously awarded the Indian Order of Merit. His son, serving alongside him, performed his father's funeral rites during a lull in the fighting. Kartar Singh is commemorated by name on CWGC's Singapore Memorial.
Photo credit: Susan Shaw & Harry Fecitt
Discover More about Kartar Singh
Jemadar Abdul Hafiz VC
Born on 1 July 1918, in the Rohtak district of the Punjab, Abdul Hafiz served with 9th Jat Regiment in the British Indian Army during the Second World War.
On 6 April 1944, during the Battle of Imphal, he led a counter-attack against a Japanese position. Although twice wounded leading the advance, he charged a machine-gun, killing the crew. He continued at the head of his men until finally collapsing. His last words were to encourage his soldiers on.
For his inspirational leadership and courage, he was posthumously awarded the Victoria Cross, the highest award for bravery. He is buried in Imphal Indian Army War Cemetery, Plot 3. Row Q.
Photo Credit: Jemadar Abdul Hafiz VC © IWM IND 3508
Discover More about Jemadar Abdul Hafiz VC
Forgotten Indian Seafarers Stories
For South Asian Heritage Month, we have partnered with Believe in Me, to tell the stories of Indian Seafarers at Tower Hill Memorial. Book your free tour on Saturday 14th August and discover their remarkable stories.
Book your Tour