Over the past hundred years the image of serried ranks of headstones in highly manicured and ordered grounds has grown to symbolise CWGC cemeteries. From the outset, the IWGC concept was more of garden cemeteries where equal thought and design was given to horticultural elements as to the 'built' elements.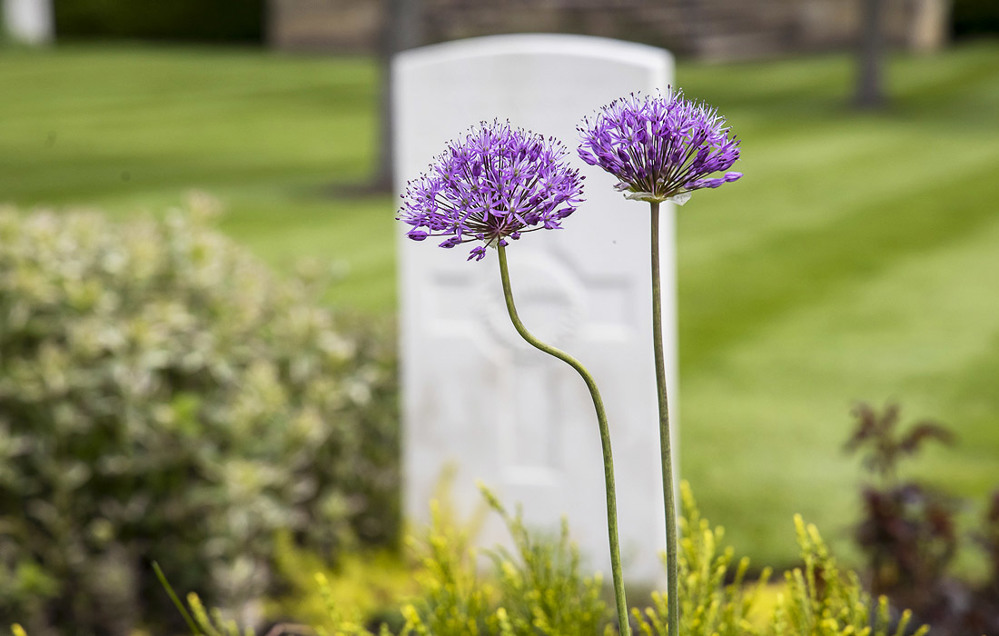 The Gertrude Jekyll inspired 'cottage garden' was a strong influence on our planting style creating gardens in which the headstones sat, providing a quiet, contemplative space for remembrance with the horticulture softening the structures.
Staring into the climate crystal ball
Looking to the next hundred years and beyond, we are facing accelerating challenges and are constantly striving to innovate and develop while ensuring the cemeteries reflect their rich history and continue to be special places to visit.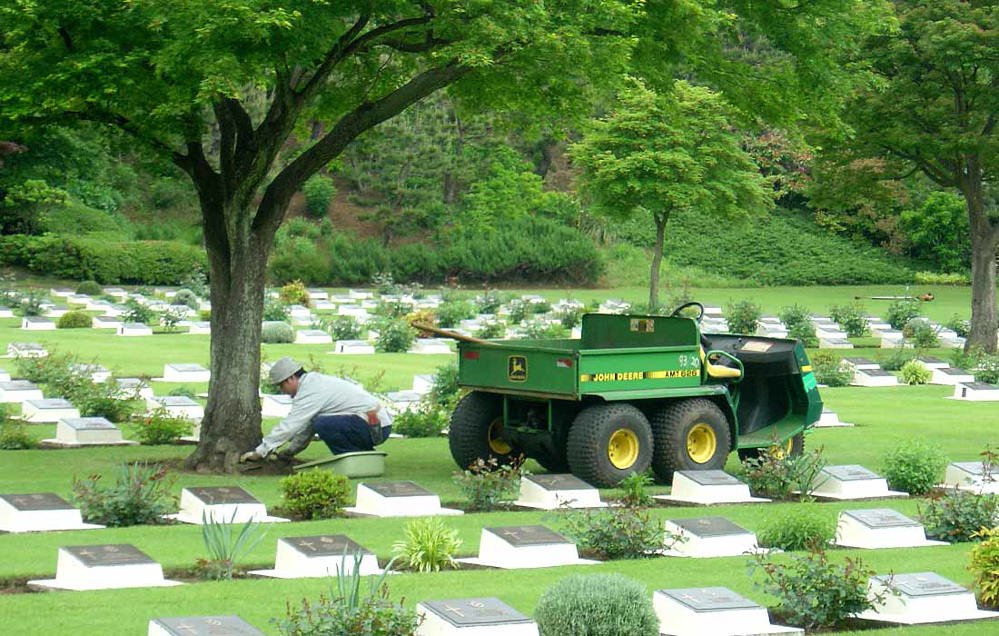 Working at the beautiful CWGC Yokohama War Cemetery, Japan.
We are adopting a Right Ecosystem/Right Plant/Right Place approach to meet the climate of the future, transitioning to more sustainable landscapes and gardens which are in tune with the changing weather and climate but still have a strong sense of place and are easily identifiable as being 'Commission sites'.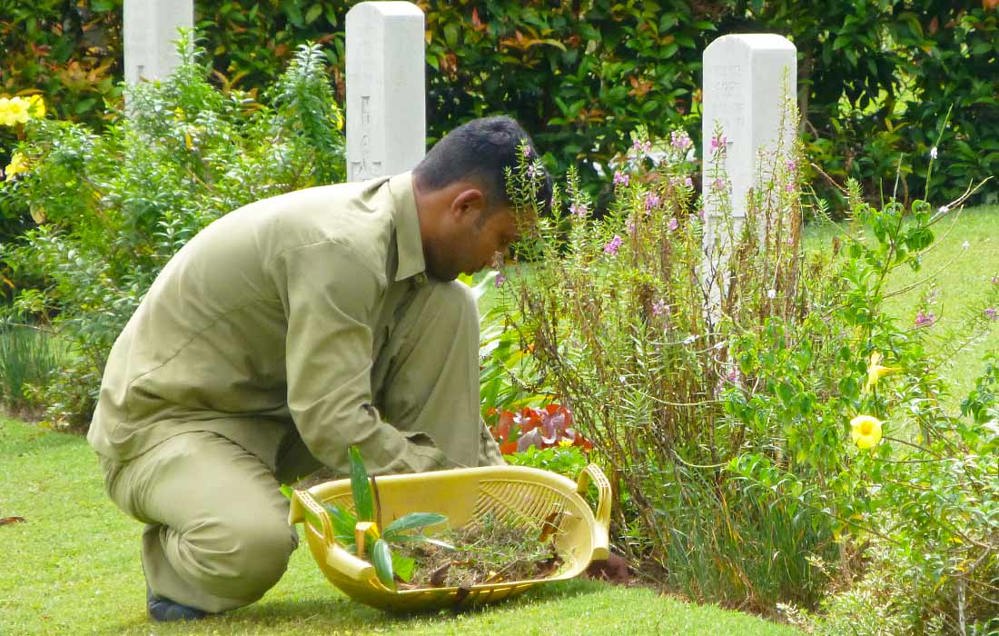 Tending the borders at CWGC Kuala Lumpur (Cheras Road) Civil Cemetery.
Our aim is to adopt a more holistic approach to managing our horticulture, thinking about design and layout in keeping with the surrounding landscape. For instance, in the Mediterranean where we have extensively used irrigation, selecting plants and species naturally suited to the location with the planting and management of the sites evolving as time goes by.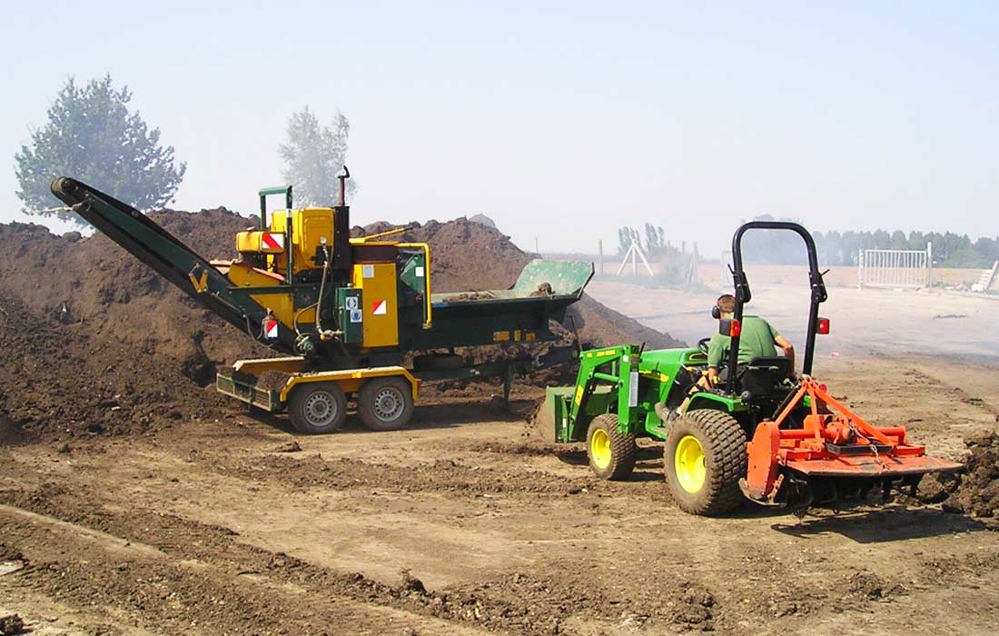 The compost farm at CWGC Thiepval, The Somme, France.
 A key component of this approach is ensuring that the soil is as naturally healthy as possible to sustain healthy and vigorous growth. Where possible we select those plants which are naturally more disease and pest resistant and have ceased to use any fungicides or insecticides in our headstone borders. This enables natural predators such as ladybird larvae to keep aphids and other pests in check and provides a safe food source for a host of pollinating insects.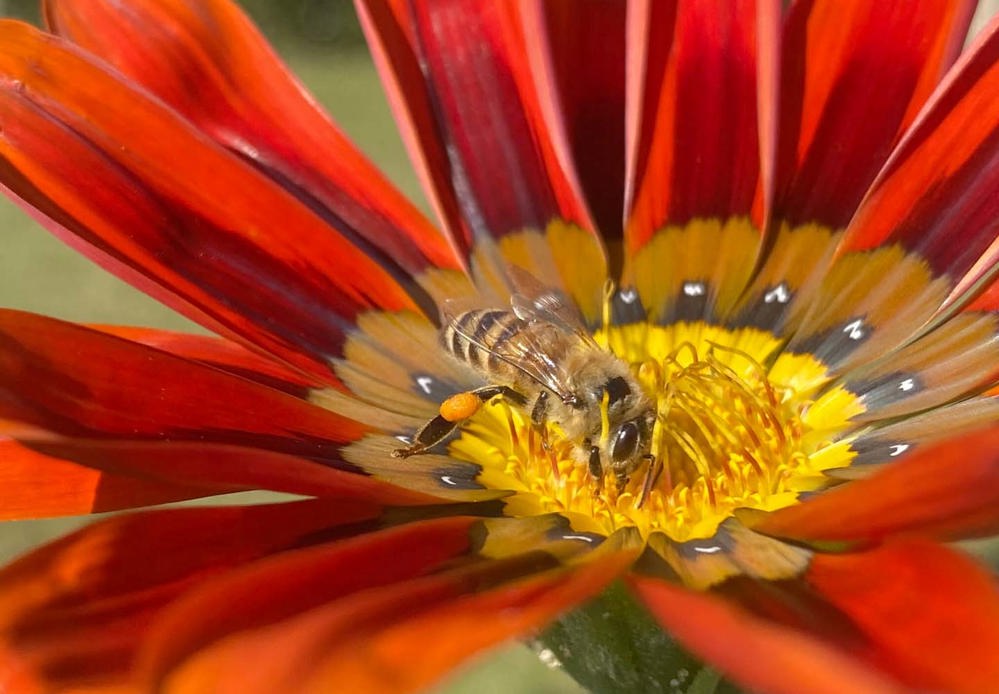 Overall, we have drastically reduced the use of environmentally damaging chemicals.
Inevitably climate change and erratic weather events will affect our horticulture. Using our own data and by collaborating with our network of horticultural organisations such as the Royal Horticultural Society and the Royal Botanic Gardens, Kew we can review research and data on how plants are performing both in the UK and around the world to give us a better understanding of the future challenges and how new plant choices, maintenance practices and resources can support the long-term sustainability of the horticulture in our sites.
Laying turf during the renovation of CWGC Kranji War Cemetery, Singapore
Around 250 of our sites across 54 countries currently use irrigation to sustain the style and layout of the horticulture, so efficient and effective use of limited or expensive water supplies is essential. Many of our constructed sites feature large areas of ornamental lawns potentially creating a heavy and unsustainable water demand in the long term. Provision of enough water of the right quality is a significant challenge, and we are actively working to build resilience and water efficiency into our sites.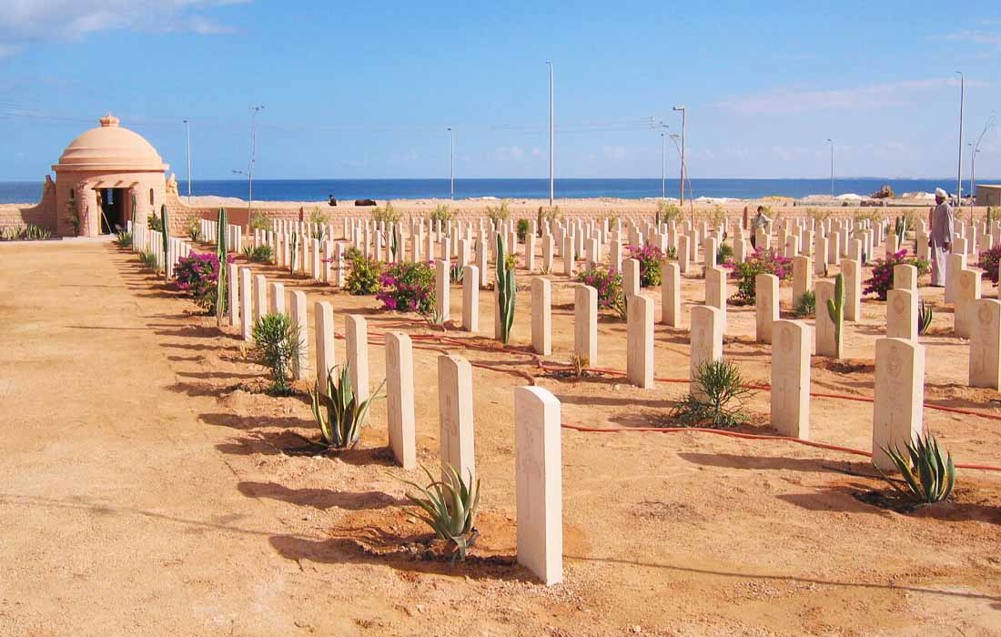 An example of border planting at CWGC Halfaya Sollum War Cemetery, Egypt.
We are introducing the most up to date water saving technologies and progressively looking for opportunities to modify the landscape to reduce the water supply demand, e.g. by reducing the area of intensive lawns. This is underpinned by the need to ensure that our sites still inspire and delight.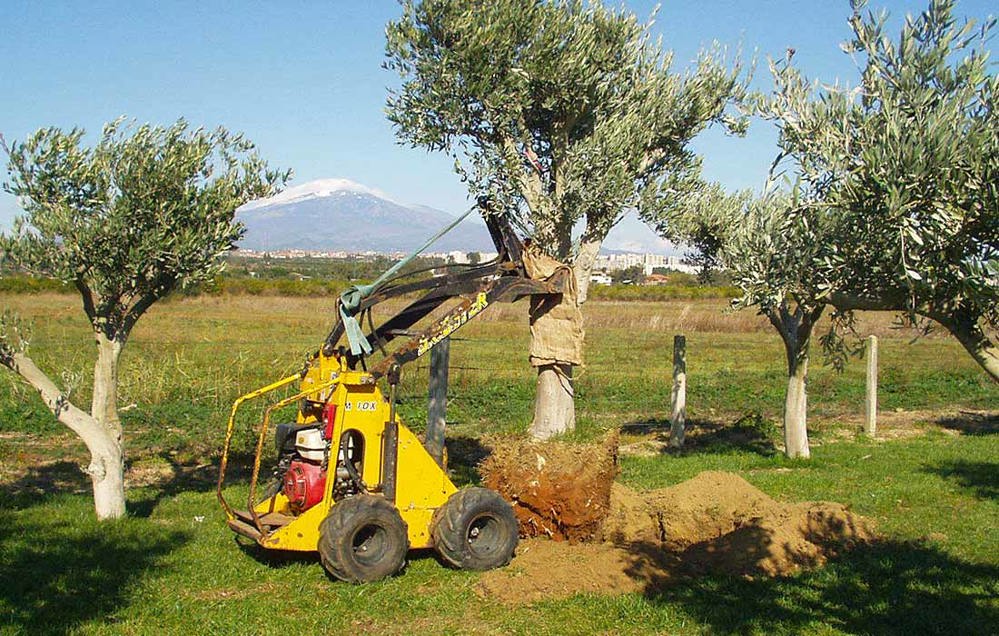 Tree displacement at CWGC Catania War Cemetery, Sicily.
Some of our trees were planted 100 years ago and many are now coming to the latter stage of their viability across our estate. Succession planning to sustain our global green canopy is an important and growing challenge and like-for-like replacement of many species is becoming less of an option due to the impact of changing climate. In selecting suitable replacements, we need to consider climate projections 30 -50 years in advance to determine the best species to ensure resilience and longevity at our sites and we are accessing the best scientific data through Botanic Gardens and Conservation International to inform our decision making.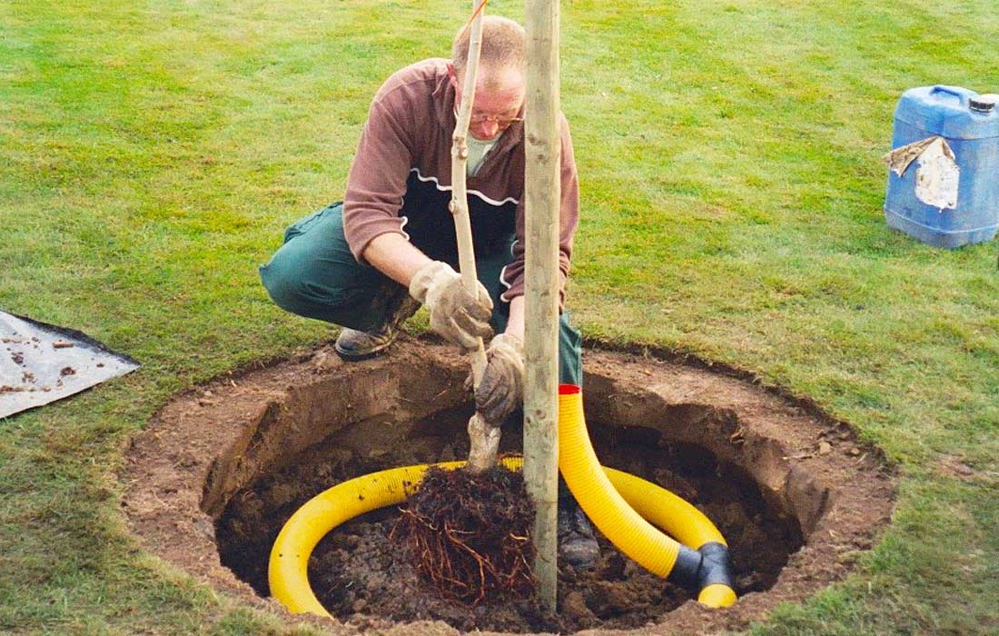 Tree planting at CWGC Mory Abbey Military Cemetery, Mory, Pas de Calais, France.
Maintaining our worldwide horticultural estate requires a wide range of machinery, equipment and tools. Where the technology exists, and if feasible, we are phasing out machines that use fossil fuels for battery powered alternatives and where opportunities exist, we are working with our suppliers to help develop battery powered versions of the specialist machines we need.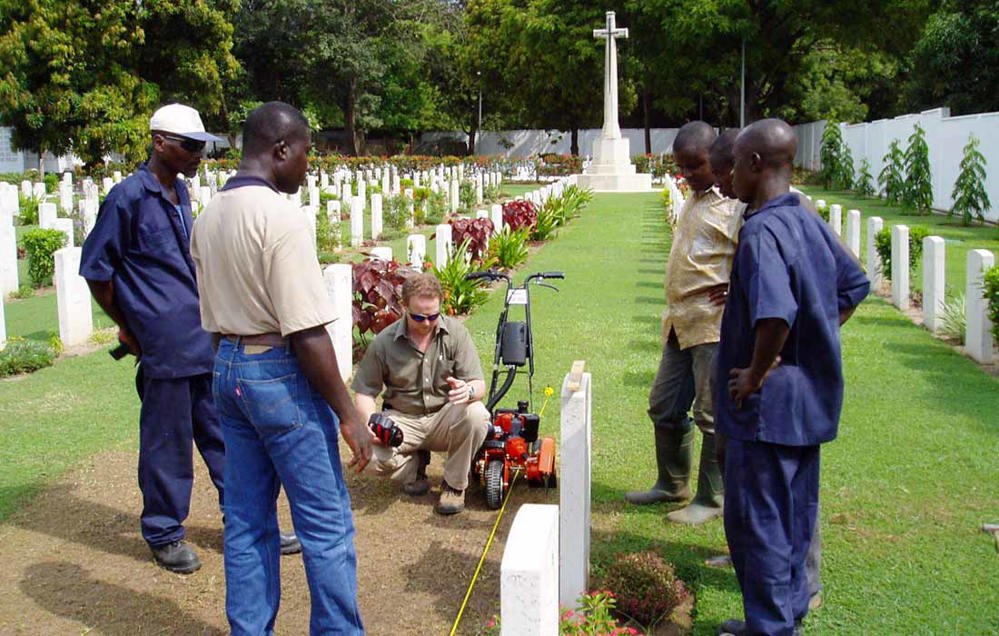 Training session at CWGC Christiansborg War Cemetery, Ghana.
Our global estate requires knowledgeable, trained, and motivated horticulturists. As much of our workforce is nearing retirement age there is a growing demand for new gardeners in our global team. To support them, their career aspirations and continued professional development we are investing in new training materials, training initiatives and programmes, apprenticeships and opportunities to be the best they can be within the broad range of technical roles.
To the Four Corners...
Read about some of the many challenges our horticultural teams face around the world.
We are investing in new training materials, training initiatives and programmes, apprenticeships and opportunities for our workforce to be the best they can be.