17 December 2021
Tracing the World War One Connection with Iceland
When you think of World War One, images of Commonwealth service personnel on the Western Front might spring to mind. But the Great War touched communities across the entire world, including those from the small island nation of Iceland in the North Atlantic. CWGC's Historian, Sanna Joutsijoki, unearths some of the stories of those from Iceland who fought and died during World War One.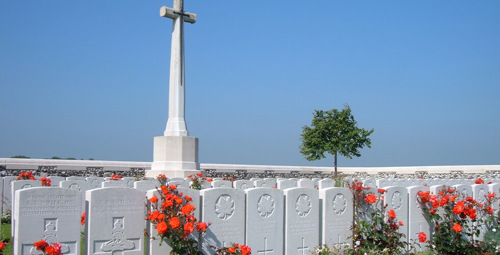 At the outbreak of the war, Iceland was still part of the neutral Denmark. Home Rule had been introduced in 1904 and on 1 December 1918 Iceland became an independent state in personal union with Denmark.
There are no Commonwealth war graves of World War One in Iceland but the CWGC commemorates over 230 Commonwealth service personnel in Iceland who died during World War Two. Their graves are found in six cemeteries of which Reykjavik (Fossvogur) Cemetery is the largest with nearly 200 burials. But who were those individuals who fought and died during World War One and where are they commemorated?
How many servicepeople of Icelandic heritage fought in the World Wars?
Many Icelandic people answered the call during both World Wars, signing up to fight with Commonwealth forces. Over 1,000 Icelandic Canadians served in World War One. In World War Two more than 2,100 men and women from Icelandic communities in North America joined the Allied war effort.
Where are World War One Casualties of Icelandic heritage commemorated?
Icelandic people who signed up to serve with Commonwealth forces fought all across the world during both World Wars. Those from World War One are commemorated in countries like Canada, France and Belgium.
Why did people of Icelandic heritage sign up to fight in World War One?
Like for many who signed up, there were a variety of reasons why Icelandic people decided to join the war effort during World War One. To protect their new found homes in countries like Canada and America, to work in hospitals and save lives, or other reasons personal to them.
What cemeteries does the CWGC have in Iceland?
The CWGC cares for more than 250 casualties in six cemeteries across Iceland:
Blonduos Cemetery
Reykjavik (Fossvogur) Cemetery
Akureyri Cemetery
Borg Churchyard
Reydarfjordur Cemetery
Seydisfjordur Cemetery
Icelandic Communities Overseas
Iceland is the most western country of Europe, situated in the North Atlantic Ocean. It shares a long history with the other Nordic countries, especially with Denmark and Norway.
According to estimates some 15,000 Icelanders emigrated to North America in the late 19th century. Most of them settled in Canada, especially to the Gimli and Riverton Districts in Manitoba, but Icelandic communities formed in the US also.
By the early 20th century there were established Icelandic communities in North America and hundreds of Icelandic Canadians and Americans saw action in World War One in service of the Allied armies, especially as part of the Canadian and US forces.
Icelandic Canadians in Allied Service
Private Magdal (Mack) Hermanson
Private Magdal (Mack) Hermanson was born in Seydisfjordur, Iceland on 21 June 1895 to Gudjon and Magdalen Hermanson. The family left Iceland for Canada in 1904, where they settled in Keewatin, Ontario. Gudjon and Magdalen had two sons and two daughters. Prior to the war Mack worked as printer.
According to his service record, he enlisted with the 8th Battalion (90th Winnipeg Rifles) on 23 September 1914 in Valcaltier, Quebec. Within days the unit left Canada, arriving in England on 14 October, where they completed training on the Salisbury Plain for a couple of months. In February 1915 the unit was sent to France and by mid-April they took over trenches near St. Julien in the Ypres sector. The Second Battle of Ypres was Canada's, and Mack's, first major battle in the Great War.
On 23 April, in the early stages of the battle, he was wounded, after being hit in the head. The gunshot wound turned out to be critical and he was sent to the 14th General Hospital in Wimereux, France for further treatment. Wimereux, together with Boulogne, formed then an important medical care centre for the Allied forces on the Western Front.
Sadly, Mack died of his wounds on 3 May 1915, one of many Canadian casualties of the Second Battle of Ypres. He was buried in Wimereux Communal Cemetery. Today, he is one of the 220 Canadian service personnel of the First World War buried in this cemetery. His parents chose the inscription: HE WAS THE FIRST ICELANDER TO GIVE HIS LIFE FOR CANADA. I THANK YOU MY SON.
Mack's elder brother, Sveinn (Steven) Hermanson who was born in Reykjavik on 13 October 1893, enlisted on 30 April 1918 and served with the 1st Tank Battalion, Canadian Machine Gun Corps. He survived the war and was demobilised on 30 May 1919.
Image: Canadian Great War Project Image
Private James Bjarnason
Private James Bjarnason was born in Reykjavik on 28 May 1899 to Thordur and Vigdis Bjarnason. The family emigrated to Canada and settled to Selkirk, Manitoba. On 11 December 1915 James enlisted for overseas service in the Canadian Expeditionary Force and was attached to the 108th Battalion. He was then about 16 years old and, in fact, still a student.
According to his service record, he was not to be sent overseas before he became 19. However, on 18 September 1916 he left Canada, arriving in Liverpool on 25 September. In January 1917 he was transferred to the 14th Reserve Battalion (Manitoba) in Dibgate. He later served in the Boys' Battalion and Young Soldiers Battalion before being transferred to the 16th Battalion in late June 1918.
While serving in France, James Bjarnason was hit by a sniper during an attack near the Drocourt-Queant Line. He died on 2 September 1918, aged 18, and was buried in CWGC's Dominion Cemetery, Hendecourt-les-Cagnicourt which was made by the Canadian units, after the attack on the Drocourt-Queant Line. His parents chose an inscription in Icelandic: GEF JEG MITT LIF OG LIKA OND LJUFI JESU I PINA HOND which was engraved on his headstone.
Image: The Royal Canadian Legion, Manitoba & Northwestern Ontario Command
Nursing Sister Christine Frederickson
Nursing Sister Christine Frederickson was born on 9 July in 1886 in Skagafjord, Iceland to Frederick and Guglaug Frederickson. The family moved to Canada and settled in Manitoba. During the war, she studied nursing and graduated from Strathcona Hospital in Alberta in 1916. Her brother Walter enlisted in 1916 and Christine followed his example in January 1918.
As part of the Canadian Army Medical Corps, she was assigned to serve in Strathcona Military Hospital, one of the convalescent hospitals for Canadian service personnel on home soil.
After having cared for the sick and wounded for a number of months, on 24 October Christine was relieved of duty. She had volunteered to work in an influenza hospital but fell ill herself with the Spanish Flu. Within a few days her condition deteriorated and by the 28 October she died. Christine Frederickson was buried in Glenboro (Bru Frikirk Ju Lutheran Church) Cemetery in Glenborough, Manitoba. The personal inscription on her headstone reads: REST IN PEACE. She is one of the over 7,500 casualties of World War One commemorated in cemeteries and memorials across Canada.
Image: Veterans Affairs Canada
After World War One
More than 1,000 Icelandic Canadians served in World War One. Around 140 of them never returned home. Among those who survived the war, were the players, apart from two, of the Winnipeg Falcons, an ice hockey team made up of young men mainly of Icelandic descent. Many of them enlisted with the 223rd (Canadian Scandinavians) Battalion and saw action overseas.
After the demobilisation, the Falcons were back in the rink. During the 1919-1920 season they won the Manitoba League, the Western Hockey championship and the Allan Cup, qualifying to represent Canada in the Olympic Games in Antwerp in 1920. The Winnipeg Falcons went on to win the first-ever Olympic gold medal in ice hockey, becoming the first Canadian team to have won the Olympic gold in their national winter sport.
World War One was a global war and these are some of the stories of men and women of Icelandic heritage who witnessed the Great War. In World War Two, more than 2,100 servicemen and women of Icelandic communities in North America joined the Allied war effort, serving in the Canadian and US armed forces.
The Winnipeg Falcons won the first-ever gold medal in ice hockey in the Antwerp Olympics in 1920. Image: Olympic team pictures (winnipegfalcons.com)