Patcham Down Indian Forces Cremation Memorial
The contribution and sacrifice made by India during the First World War was vital to Allied success, but when imagining where their dead are commemorated, a corner of an English down looking toward the Channel might be surprising.
This Memorial bears the names of 53 men of the Indian Army who died during the First World War, between December 1914 and December 1915. They hailed from many parts of undivided India and neighbouring Nepal and were Hindu or Sikh in faith, traditions which cremate their dead. These men died in military hospitals in Brighton and were brought to this corner of Patcham Down where a special war memorial cremation ground had been made and they were committed to fire in accordance with their faith.
Find out more about this memorial
Within days of the British declaration of war on Germany on 4 August 1914, two infantry Divisions and a cavalry Brigade of the Indian Army were ordered to mobilise and prepare for overseas service. Units of the Indian Expeditionary Force began arriving in France in September, and by late October they were involved in heavy fighting on the Messines Ridge in Belgium.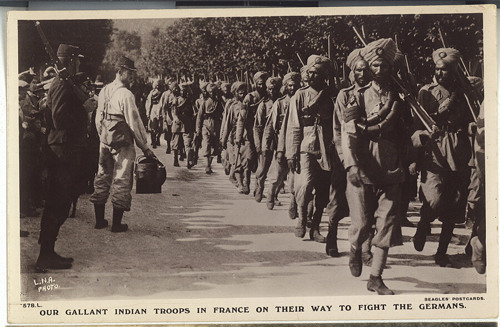 1914 postcard, Indian troops in France on the way to the front
At the same time, here in the UK, hospital capacity was being greatly expanded as the armed forces swelled with volunteers, contingents from the Empire arrived, and thousands of men went into action on the Western Front. In Brighton, existing hospitals like the Royal Sussex County Hospital and the specialist eye hospital dedicated beds for servicemen, but most accommodation would be in requisitioned and adapted buildings. The army's 2nd Eastern General Hospital occupied several premises including a boys' grammar school. A workhouse infirmary in Elm Grove became the Kitchener Indian General Hospital, and the Royal Pavilion, the Corn Exchange, and the Dome were converted into facilities with wards, treatment rooms and operating theatres.
Ward 5, formerly the Music Room, Royal Pavilion, c.1914-1916. Royal Pavilion & Museums, Brighton & Hove
Main entrance, Kitchener Indian Hospital, Elm Grove, 1915. Royal Pavilion & Museums, Brighton & Hove
In October 1914, Brighton became the centre of Indian army medical care in the United Kingdom. Kitchener Indian General Hospital and the converted Royal Pavilion, etc. were all set up to accommodate the religious and caste sensitivities of the Hindu, Muslim and Sikh soldiers, from nine different kitchens to separate places for worship. Over 4,300 Indian patients were admitted to the facilities on the Pavilion estate alone between 1 December 1914 and 15 February 1916. Most recovered to return to their units; those who died were buried or cremated in accordance with their faith. A site on the downs above the city and the sea was chosen for cremations, and 53 Hindu and Sikh servicemen were committed to fire there in accordance with their faiths.
Indian Army patients with some local kids, Brighton, 1915. Royal Pavilion & Museums, Brighton & Hove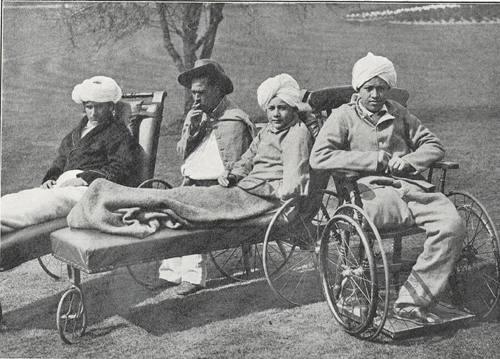 Four wounded Gurkha soldiers in the gardens of the Royal Pavilion, 1915. Royal Pavilion & Museums, Brighton & Hove
Most of those cremated on Patcham Down were officially commemorated by the CWGC on our Neuve-Chapelle Memorial in France, where some 4,700 servicemen of the Indian Army who died on the Western Front and have no known grave are named. Fourteen were named on CWGC's Hollybrook Memorial in Southampton, although that memorial is primarily for soldiers who died at sea.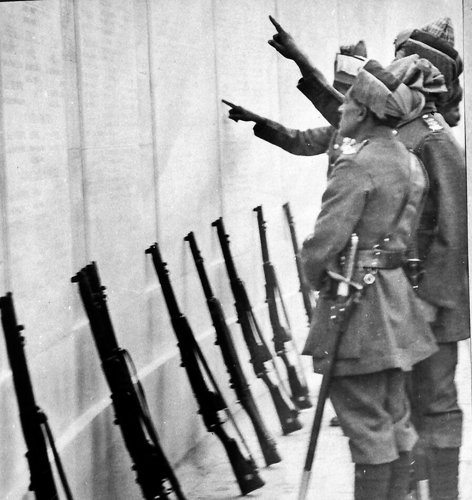 Indian Army servicemen at the unveiling of Neuve-Chapelle Memorial, 1927. CWGC archive
In 2009, the CWGC decided that while it was true that these men did not have graves, they were not 'missing' in the conventional sense, or lost at sea, and it would be more appropriate to commemorate them where they had been cremated. A new memorial was designed and built upon Patcham Down by the CWGC. This new home for the names of those 53 men who died in Brighton and were brought up here to this beautiful and peaceful spot to pass through fire was unveiled in 2010. It stands near the Chattri Memorial, a privately funded memorial unveiled in 1921, remembering all Indian soldiers who fell in the Great War.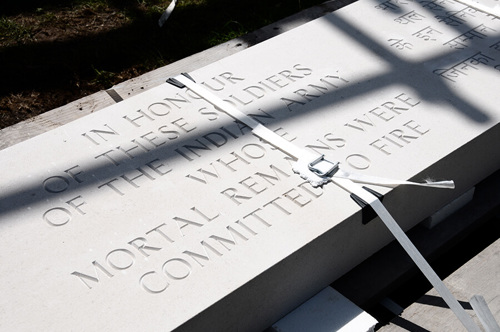 The memorial under construction © CWGC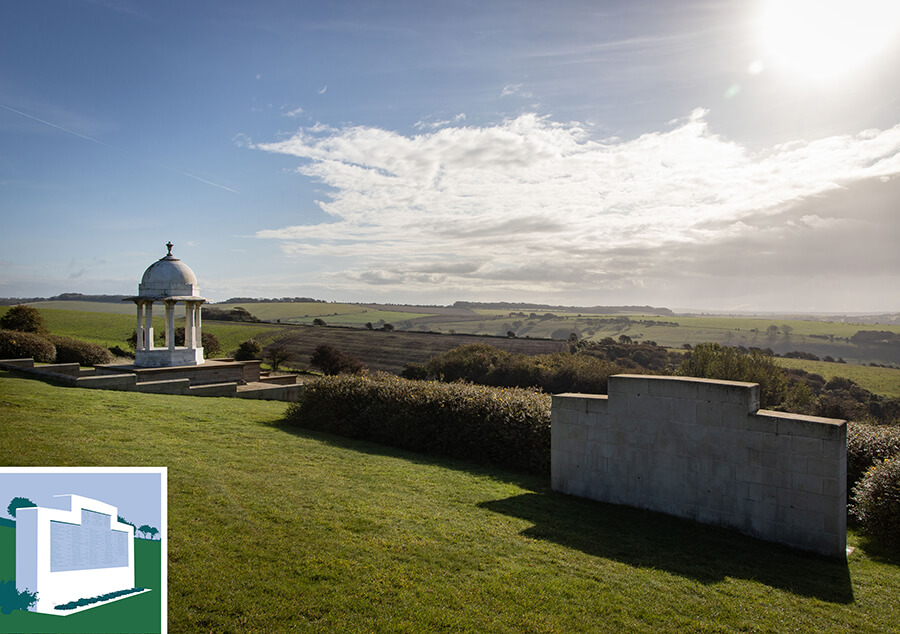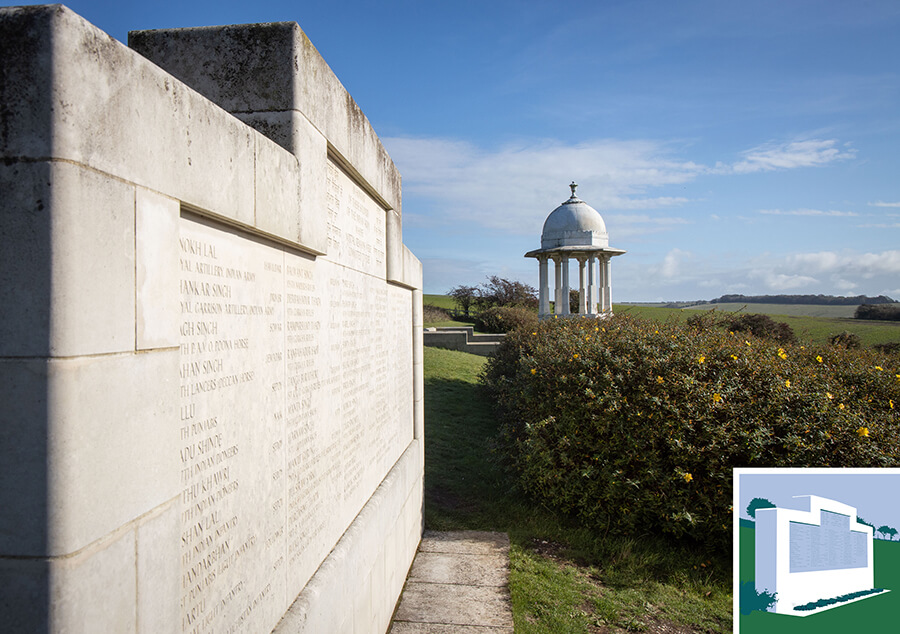 Visit Patcham Down Indian Forces Cremation Memorial
By Car: As you enter Brighton on the A23, take the A27 towards Lewes. At the second small roundabout (with a slip road to Lewes) take the north exit into Braypool Lane and immediately turn right. Park on the brow of the hill and walk to the Memorial and adjacent Chattri by following the sign-posted footpath.
By Bus: Catch a bus from the Old Steine, Brighton, alight at Patcham Place YHA, London Road, Brighton. BN1 8YD.
Please note: To reach the Cremation Memorial and the adjacent Chattri Memorial involves walking some distance over farmland. However, on official days of memorial services, vehicles are allowed to park near the memorial.