Liverpool (Anfield) Cemetery
Liverpool's Anfield Cemetery has the largest number of Commonwealth war burials in Liverpool with almost 1,000 service personnel commemorated here, including nine servicewomen of the Second World War.
During both world wars, the port of Liverpool played a key role in the supply of food and war material, and as a base for Royal Navy ships large and small, from cruiser squadrons to auxiliary patrol vessels. The majority of the war burials here are concentrated in two plots, with others scattered throughout the cemetery. Screen walls record the names of those whose graves cannot be individually marked or can no longer be maintained in other churchyards or war cemeteries in the area. A panel records the names and details of 47 members of the Commonwealth forces whose remains were cremated at Anfield Crematorium during the Second World War.
Find out more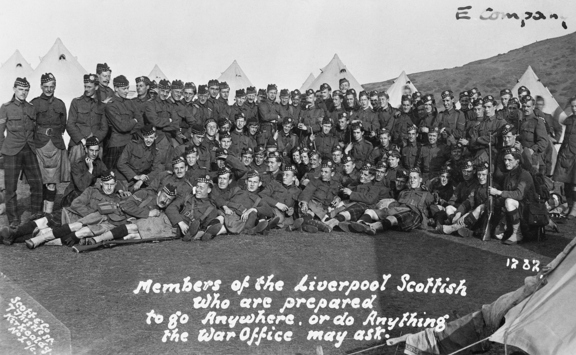 Men of the Liverpool Scottish, a Territorial unit which formed the 10th Battalion of The King's (Liverpool Regiment), in camp soon after mobilisation, August 1914 © IWM Q114678
During both world wars, the port of Liverpool played a key role in the supply of food and war material, and as a base for Royal Navy ships large and small, from Cruiser Squadrons to Auxiliary Patrol vessels. Able Seaman Percy Williams of HMS Mars was the first service person of the First World War to be laid to rest here, he died just ten days after the outbreak of war. 
On 22 September 1914 the first hospital ship reached the Mersey, and from 1 October ambulance trains arrived at Aintree from the Channel ports bringing patients directly from the fighting overseas.   
Queues of people waiting to see an ambulance train at Liverpool Station. February 1916. © National Railway Museum 1997 7059 HOR F 1774
During the First World War, Liverpool was home to the 1st Western General Hospital, a Territorial Force hospital headquartered in Fazakerley, with beds for several thousand patients across many sites in and around the city.  
Sections of 1st Western provided specialist care for specific conditions, including facial and jaw injuries at Highfield Hospital, orthopaedic cases at Alder Hey, and neurological work at David Lewis Northern Hospital. The School of Tropical Medicine trained Royal Army Medical Corps officers for service overseas and treated servicemen with malaria and other tropical diseases.  
Tens of thousands of men would be cared for in Liverpool during the First World War and most would recover. In 1917, a large Canadian Military Hospital opened at Kirkdale, and in 1918, American army medical services set up facilities in Liverpool also.  
War burials extend to 1921, as men and women still in military service died of wounds or disease, particularly of 'Spanish flu' during the influenza pandemic of 1918-1920 which claimed the lives of as many as 250,000 people in Britain.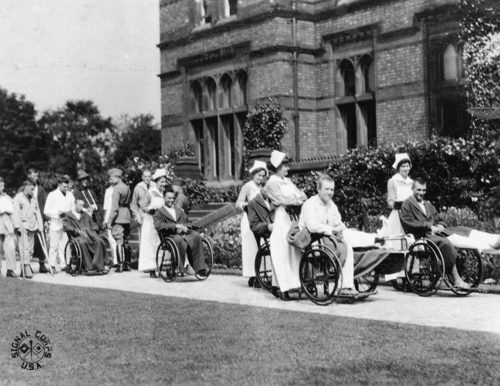 Wounded soldiers being wheeled about the grounds of the American Red Cross Military Hospital, Unit T. Mossley Hill, Liverpool, England. 10 August 1918. © IWM HU 107001
Liverpool is also home to the oldest Chinese community in Europe and there are five members of the Chinese Labour Corps (CLC) buried in the cemetery, including Kuo Ch'ing Shan, the first CLC member to be buried in Britain. Suffering from pulmonary tuberculosis, Shan was admitted straight from the ship he was aboard into Liverpool Port Sanitary Hospital and died on 6 June 1917, aged 26. 
During the Second World War the headquarters of Western Approaches Command was located in Liverpool. The city was also the manning depot for officers and men of the Merchant Navy who served with the Royal Navy. There are over 520 burials from the Second World War in this cemetery, many of them men of the British Royal and Merchant Navies, but there are also Dutch, Norwegian, Belgian and Danish merchant seamen here. Some 100 men and women who served in the Royal Air Force are also buried here.  Buried in C of E Section 20 Grave 47 is a Russian sailor – Nicholas Kusick – who died on 18 November 1944, aged 59.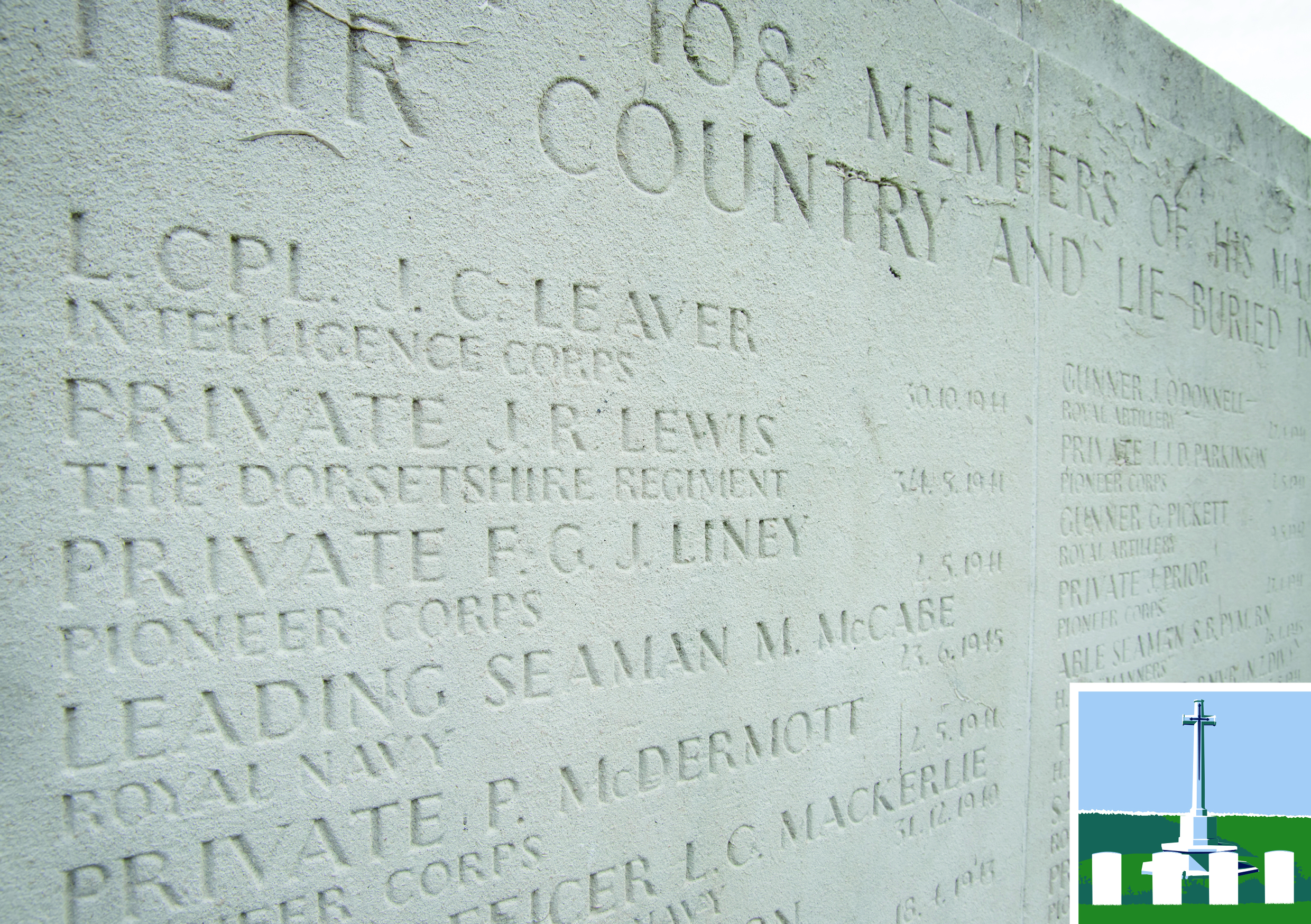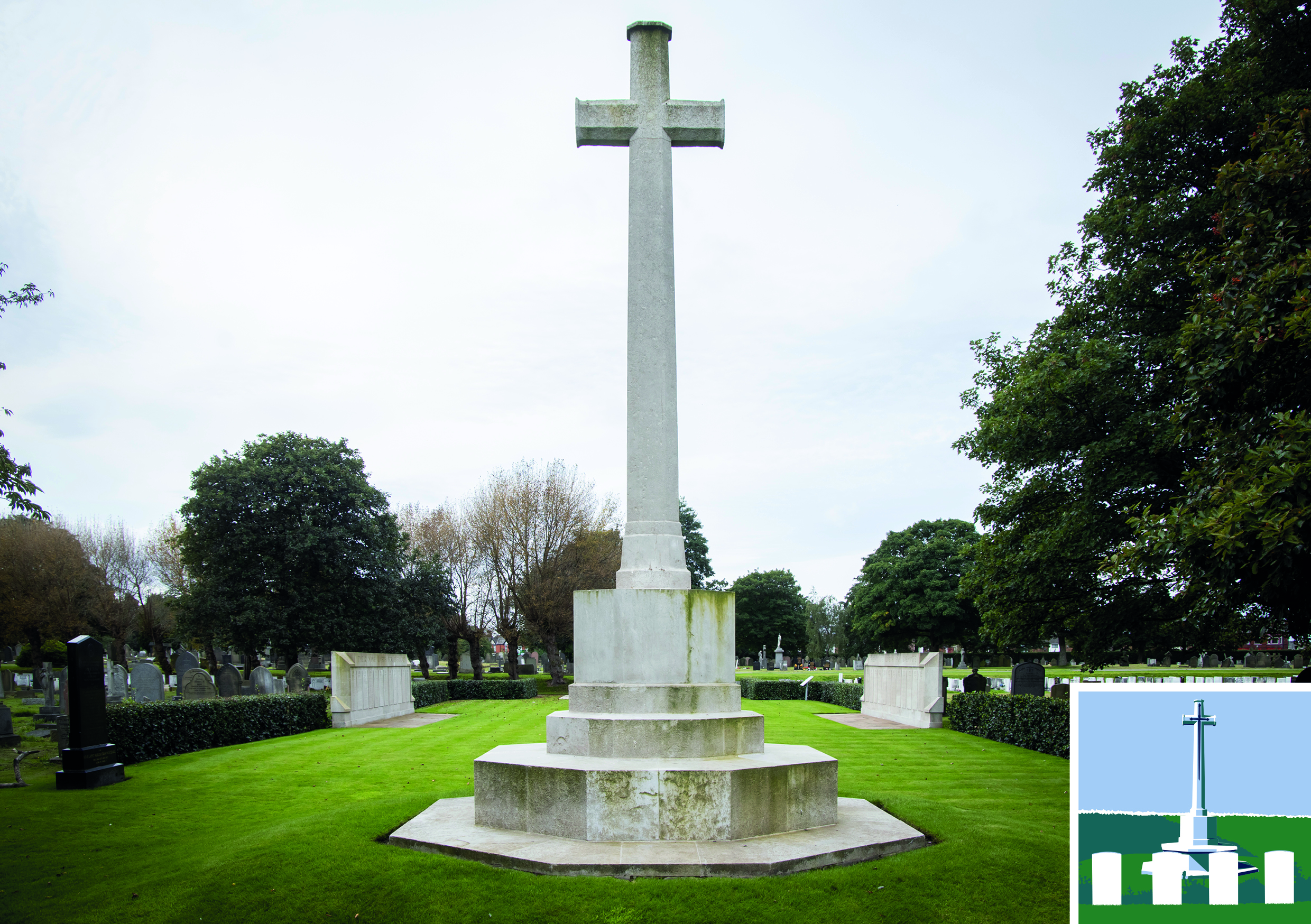 Visit Liverpool (Anfield) Cemetery
Located in Anfield, a district of Liverpool, Merseyside, the cemetery lies to the northeast of Stanley Park.
Before you visit:
Visit the website of the Site Authority