Birmingham (Warstone Lane) Cemetery
At Birmingham Warstone Lane Cemetery and the nearby Birmingham Key Hill Cemetery the Commonwealth War Graves Commission commemorates over 110 Commonwealth servicemen of the World Wars, most on screen wall war memorials.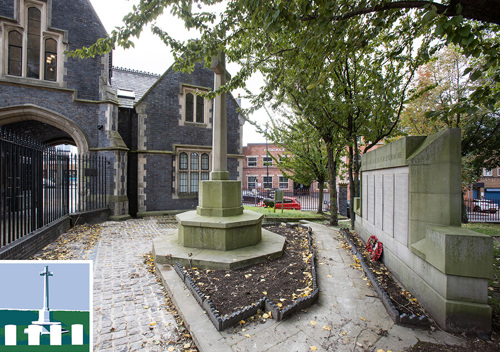 On either side of Birmingham's Jewellery Quarter railway station lies Warstone Lane Cemetery and Key Hill Cemetery. Key Hill Cemetery, which lies to the north, is the oldest of the two sites and was established in 1836 as a nondenominational cemetery. It contains 46 Commonwealth war graves. Warstone Lane Cemetery was established in 1848, as a Church of England burial ground, and contains 64 Commonwealth war graves. Both cemeteries served the local community, many of whom were involved in the jewellery trade for which the area gained its name.
The First World War saw four important hospitals - besides many smaller - posted at Birmingham: the 1st Southern General (3,500 beds) was in the university and other buildings, with a section at Stourbridge; the 2nd/1st Southern General (1,800 beds) in the Dudley Road Infirmary and in billets; the 1st Birmingham War Hospital (1,000 beds) at Rubery Hill Asylum and the 2nd Birmingham War Hospital (900 beds) at Hollymoor Asylum.
Military hospitals were at Birmingham again during the Second World War, including No 7 Canadian Hospital at Marston Green. Through-out the World Wars Birmingham was one of the chief manufacturing areas in the UK producing materials for the war efforts and during the Second World War the city was subjected to multiple devastating air raids during the Blitz of 1940-41.
Find out more about this cemetery
Situated in Birmingham's historic jewellery quarter, on either side of the railway tracks, is Warstone Lane Cemetery and Key Hill Cemetery, which contain the graves and memorials to 64 and 46 Commonwealth servicemen of both world wars respectively. Key Hill Cemetery is the older of the two, having been established in 1836 as a nondenominational cemetery which predominately served Birmingham's nonconformist communities. Warstone Lane Cemetery, also known as Brookfields Cemetery or Mint Cemetery, due to its proximity to the former Birmingham mint, was established in 1848 as a Church of England burial ground. In addition to its heavy industry, Birmingham became the centre of Britain's jewellery manufacture and a distinct Jewellery Quarter, centred around Hockley, developed in the mid-19th century. By 1914 there were over 20,000 people being employed in the jewellery trade in the area and during the war the trade contained to thrive supplying the military with buttons, badges, medals and other articles of uniform. Birmingham was also home to several military hospitals during the war and some 130,000 wounded and sick servicemen were treated here.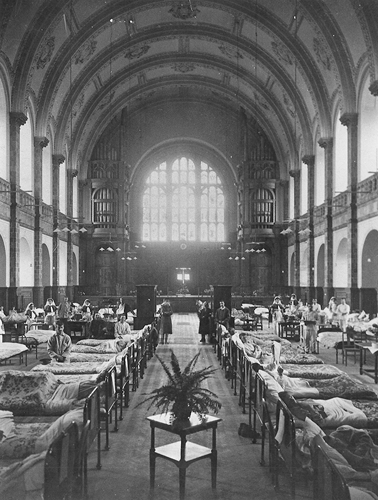 The Great Hall of the University of Birmingham as a hospital ward during the First World War. Patients in bed and nurses attending. Reproduced with the permission of the Library of Birmingham, MS 4616 (89/1859) 
More than half of those buried at Warstone Lane and Key Hill are known to have had a connection with Birmingham, including Private Henry Hall whose parents lived in Warstone Lane close to the cemetery. Henry worked as silver polisher before the First World War and was married with six children. His wife Delia was pregnant with their seventh when in August 1914 he enlisted with the Royal Warwickshire Regiment. Despite then being in his late thirties, Henry gave his age as 34 as the upper age limit to join the army at that time was 38. Henry served during the Gallipoli Campaign, where he contracted dysentery and suffered from frostbite. He was evacuated back to England and following his recovery was posted to several different units. In September 1916, while still in England, Henry deserted but returned to his unit in December. He was convicted of desertion and given 112 days detention. On his release Henry was again posted to several different units before being sent to France in December 1917. 
In March 1918, while serving with the 20th Entrenching Battalion, Henry was caught up in the German Spring Offensive and reported missing. Later Henry was found to have been admitted to a field hospital having suffered a gunshot wound in the finger. He was transferred back to England, when in April, Henry again deserted, only to re-join his unit. Henry was again convicted of desertion but only served a few months of his sentence before being sent back to France in October 1918. Henry returned to England in February 1919 and was discharged in March 1919. However, a month later on 10 April 1919, Henry died while being treated at the War Pension hospital, Lodge Road Birmingham. The cause of death was stated as dysentery and exhaustion, a condition which had likely plagued him since his time in Gallipoli. He was buried in Warstone Lane cemetery where his name appears on the screen wall. 
The majority of those commemorated at Warstone Lane and Key Hill were buried in "Public Graves". The Commission was prohibited from erecting headstones over these public graves and so these individuals are commemorated by name on two screen walls, one in each cemetery. Those who were buried in private graves are marked by Commission headstones. 
During the Second World War Birmingham was again home to a number of military hospitals and as a major manufacturing area producing materials for the war effort it was subjected to many devastating air raids during the Blitz of 1940-41. A major feature of the Warstone Lane cemetery is the two tiers of catacombs cut into the bank of a hill at the centre of the cemetery which were used as shelters by the local residents during the Blitz.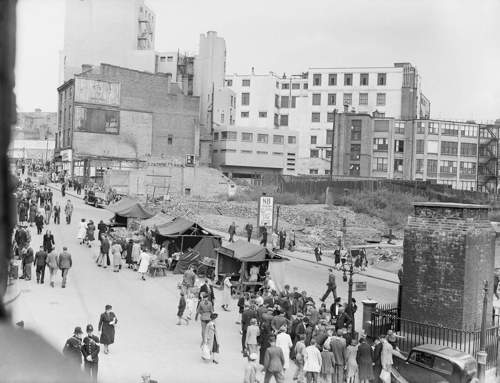 Men and women shop amongst the market stalls that line the centre of the road in Birmingham's bomb-damaged Bull Ring Market Square. 1942 - IWM D 9421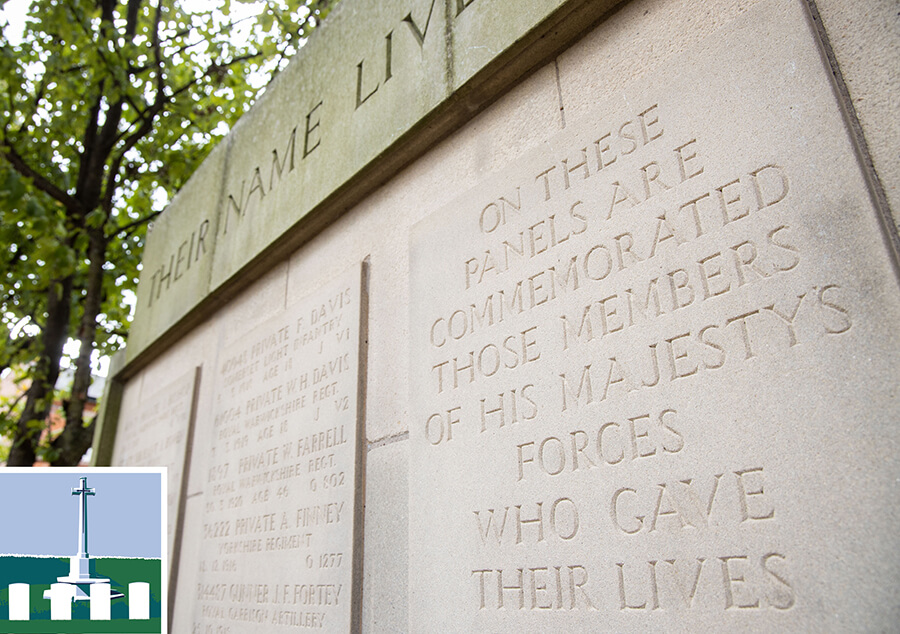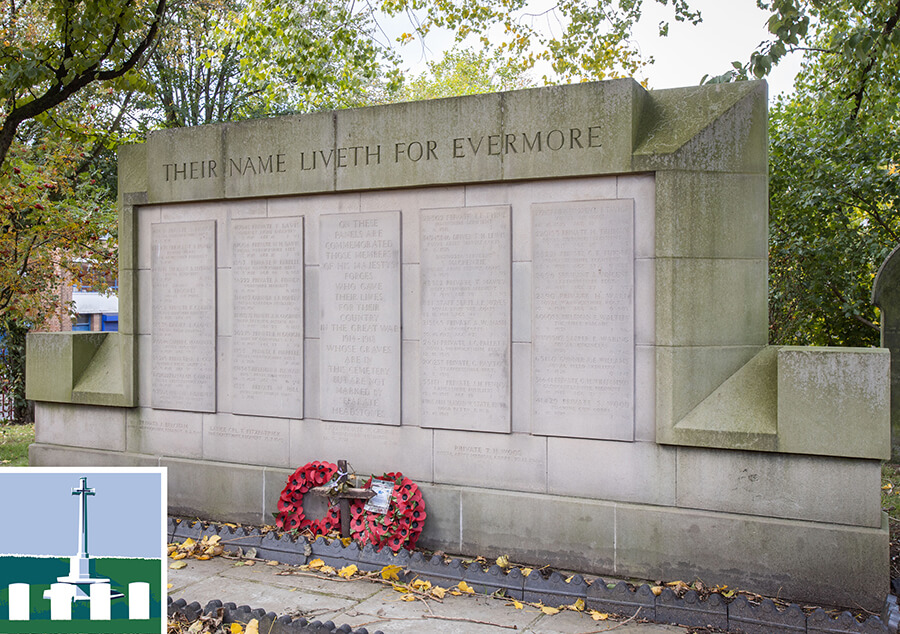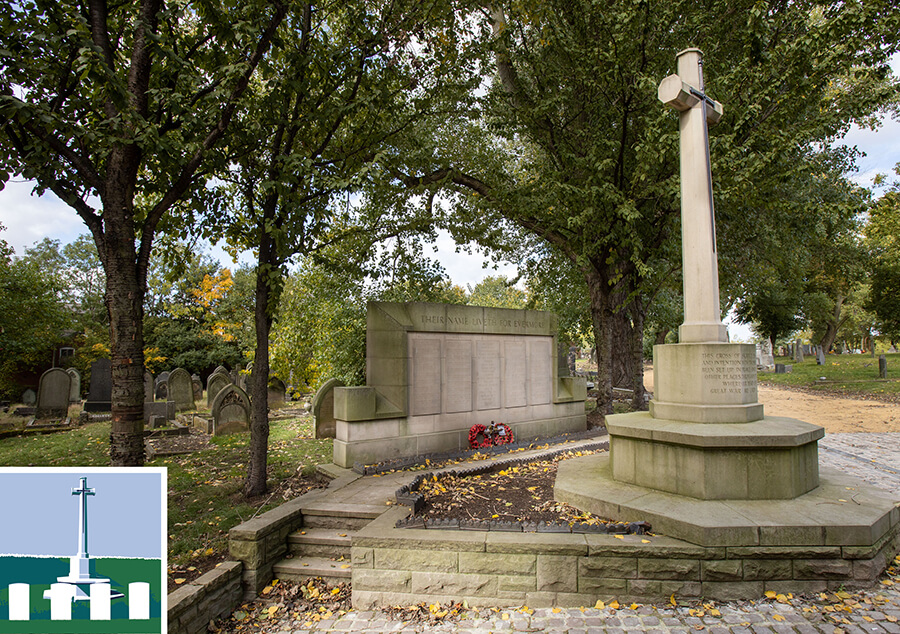 Visit Birmingham (Warstone Lane) Cemetery
This cemetery managed by Birmingham City Council and before visiting we recommend you consult their website for up to date information.