Oxford (Botley) Cemetery
Located in North Hinksey, Oxford (Botley) Cemetery is the largest of the 167 Commonwealth War Graves Commission sites in Oxfordshire. The cemetery contains some 740 burials from both wars, including 461 graves of members of the air forces who were killed during the Second World War.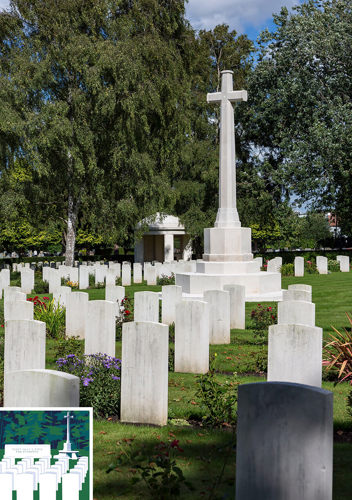 Located in North Hinksey, Oxford (Botley) Cemetery is the largest of the 167 Commonwealth War Graves Commission (CWGC) sites in Oxfordshire and contains some 740 burials. The war cemetery, in Oxford, features a Cross of Sacrifice, designed by Sir Reginald Blomfield and a shelter building, designed by Sir Edward Maufe. The cemetery is also one of only 12 sites in the United Kingdom to feature a Stone of Remembrance, designed by Sir Edwin Lutyens, which is usually reserved for cemeteries with more than 1,000 burials. A wide variety of other nationalities are represented in the burials here, including Italians, Czechs, Poles, Dutch, Belgians and the only Greek soldier buried in the United Kingdom. A further 36 German servicemen are buried in a separate plot. During the Second World War, Oxford (Botley) Cemetery was designated as a Royal Air Force Regional cemetery and now contains 461 graves of members of the air forces.
Find out more
During the First World War Oxford became a medical hub and the 3rd Southern General Hospital was housed in the buildings of Oxford University. A report from 1917 reads: 'Sisters, nurses, and orderlies are much in evidence. As the cases are mostly 'walking cases', meals are served from the kitchen in the dining hall, and a military service for the wounded is conducted by the Hospital Chaplain in Chapel on Sundays.'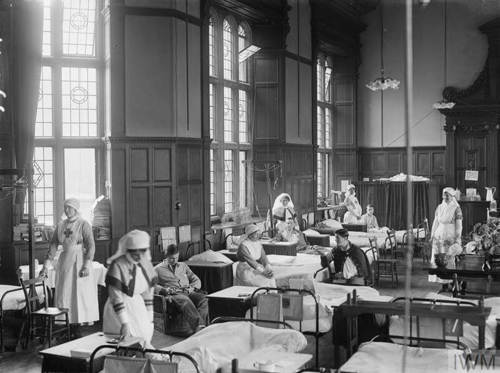 Ward in the School of Magna Borealis and Magna Australis used as a hospital for convalescent soldiers, University of Oxford. The uniforms worn by patients were commonly known as Hospital Blues. November 1917. © IWM Q 30280
There was also a specialist neurological section, with 580 beds, housed in Ashurst War Hospital in Littlemore, which opened in the former Oxford County Asylum in 1918. There are 156 burials from the First World War in Plot I/1. Many of these service personnel died of wounds and illness in Oxford and their families requested they be laid to rest in Botley Cemetery.
Among the First World War graves is Sergeant Francis William Courtney Bootle. After enlisting on 6 February 1915, he served initially in Egypt alter the Western Front with Australian. In December 1916, Bootle embarked on further training with the No. 6 Officer Cadet Battalion at Balliol College, Oxford, but he fell seriously ill and was admitted to hospital less than a week later. He died from nephritis and bronchitis on 14 February 1917, aged 26 years old. Obituaries which appeared in the Leader and the Sydney Morning Herald described Bootle as 'a fine type of manhood' and 'a fine stamp of a man'.
During the Second World War, Oxford became a destination for civilian evacuees fleeing the devastation of Luftwaffe bombing raids against London and other major cities in Britain; a fate which Oxford itself fortunately avoided. The Morris Motor Works at Cowley were repurposed for aircraft repairs and Oxford University buildings were once again converted to hospital wards. A specialist Mobile Neurological Surgical Unit was also set up at St Hugh's College, where servicemen suffering from serious head injuries were given expert care.
By 1943, 33 airbases had been established in Oxfordshire and Oxford (Botley) Cemetery was designated as a Royal Air Force Regional cemetery and today there are 516 graves from the Second World War here, the majority of which are air force graves.
Aircraftwoman 1st Class Glenys Doreen Harris, a member of the Women's Auxiliary Air Force, is buried in Plot H/3, Grave 107. Aged only 17 years old when she enlisted in February 1944, Glenys was killed whilst a passenger aboard Mosquito PF 485 on 24 September 1945. The personal inscription on her headstone, as chosen by her parents Gordon and Margaret, reads: 'BEAUTIFUL MEMORIES ARE ALL WE HAVE LEFT OF ONE WE LOVED BUT WILL NEVER FORGET.'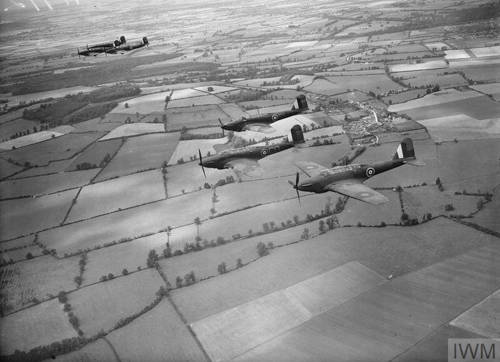 Battles from No 12 Operational Training Unit (OTU) at Benson, Oxfordshire, flying in 'vic' formation, 26 July 1940. © IWM CH 772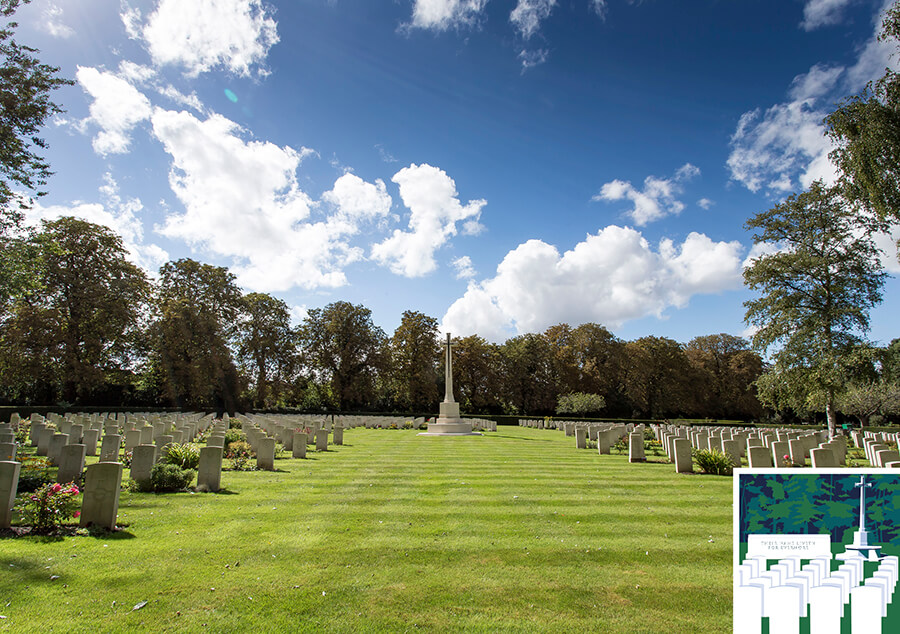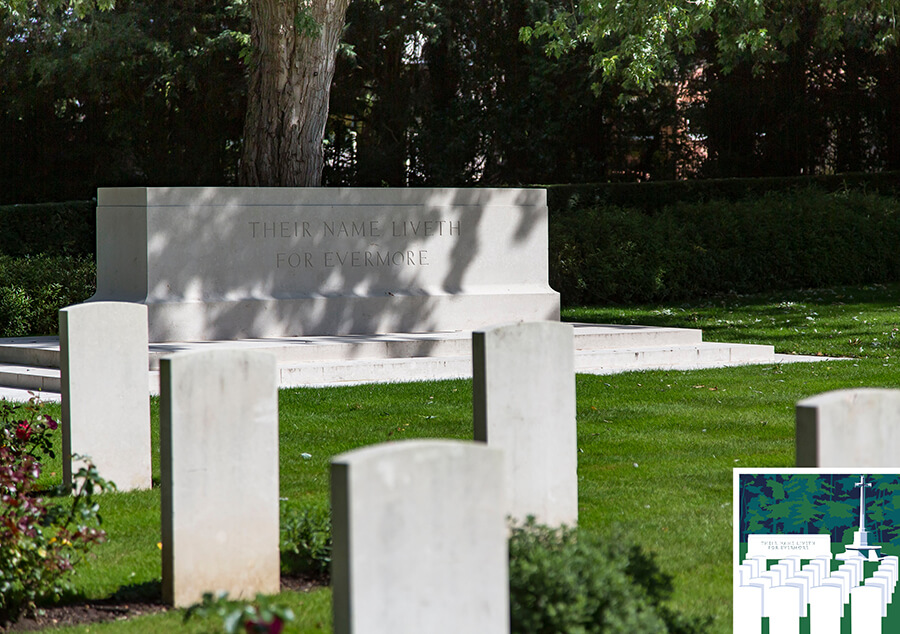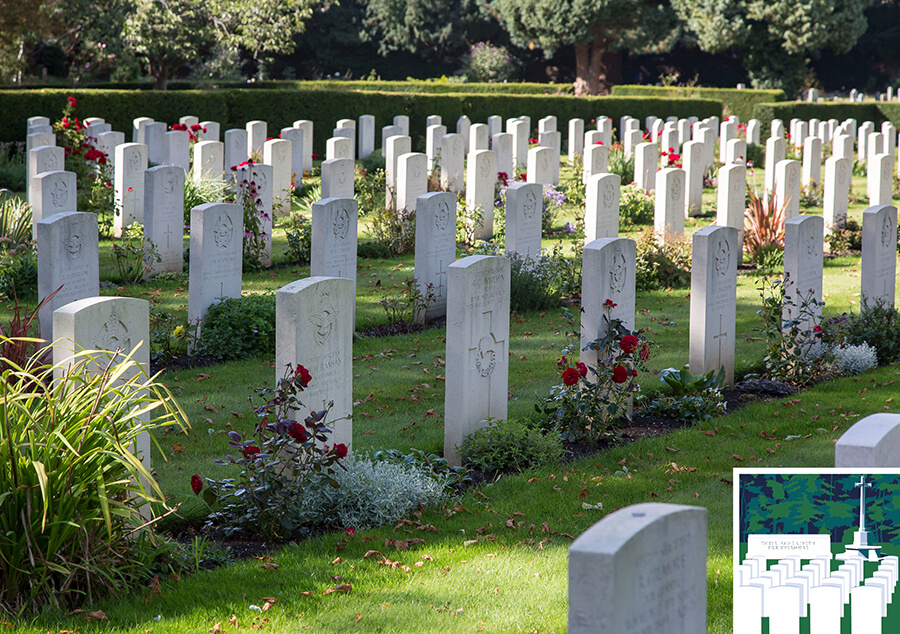 Visit Oxford (Botley) Cemetery
Vehicle access is permitted into the Cemetery. The Commonwealth War Graves Plot is at the end of the driveway behind the Chapel. The cemetery is operated by Oxford City Council and before visiting we recommend you consult the website of the Site Authority.