03 December 2021
Famous War Graves to Visit in Britain
The Commonwealth War Graves Commission (CWGC) commemorates the servicemen and women of the Commonwealth who died during the two world wars. There are over 300,000 service personnel commemorated in the UK and many of these men and women were very ordinary but incredibly brave people who gave their lives for their country. But are any of these casualties and their war graves famous? 
CWGC's Public Engagement Manager, Megan Maltby, discovers some of the famous war graves to visit across the country.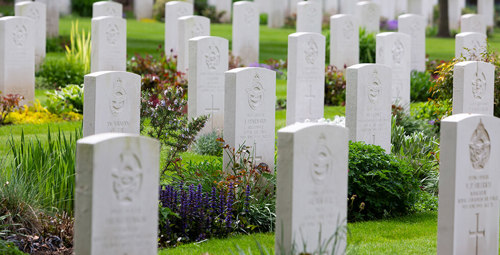 Why are There War Graves in the UK?
During the two world wars the UK became an island fortress and a base for equipping and training troops and launching land, sea and air operations. In both conflicts, the skies above and the surrounding seas became the scene of fierce fighting involving aircraft, submarines and warships.
The UK was also the main centre for the medical care of men and women serving in the armed forces. Thousands of hospitals located across the country were used to treat service personnel who were wounded, fell victim to disease, or were injured in accidents at home or overseas.
Many of the servicemen buried in the UK were killed in action in the air while defending the home front. Others drowned in British coastal waters. However, the majority were wounded or contracted disease on active service, were transported back to the UK, and subsequently died while undergoing hospital treatment or recovering in private homes.
The families based in the UK of those who died in here were able to lay their relative to rest where they wished, unlike men and women who died overseas.
Where are the War Graves in Great Britain?
The CWGC maintains graves and memorials across Great Britain at over 12,000 locations, from small country churchyards to large inner-city cemeteries and a few specially constructed CWGC cemeteries and memorials.
During the world wars, families who lived in Great Britain and had service personnel who died in Britain, usually had a say in where and how their loved one was buried. Sometimes this would be left to the military authorities, but, in many cases, the family made arrangements for the burial of their loved one and so many are buried in privately owned graves close to where the family lived.
This means that today you can find war graves in virtually every city, town and village in Britain.
Famous War Dead Commemorated in the UK
Discover some of the British Commonwealth war graves throughout the UK and the stories of the people commemorated...
Captain Eric Ravilious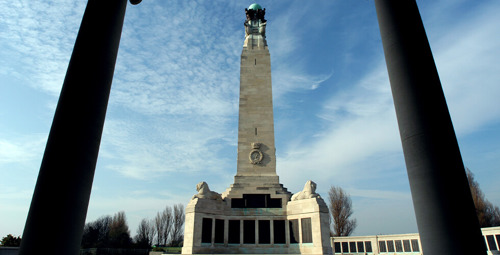 Chatham Naval Memorial, Credit: Brian Harris.
Captain Eric Ravilious lived in Eastbourne as a child with his family where he went to art school. He moved to London to study at the Royal College of Art in the Design School where he worked under Paul Nash who was a War Artist during World War One. 
At the beginning of World War Two Eric joined the Royal Observer Corps which he fulfilled until his official appointment as a War Artist allocated to the Admiralty in 1940 as a Captain. He was posted to Chatham Dockyard in Kent initially where he painted a war ship in dock. 
Eric travelled to Reykjavik in Iceland in August 1942 arriving at the airfield of RAF Kaldadarnes on 1 September. The next day he flew with four airmen on a rescue mission in a Lockheed Hudson, but shortly after they went missing themselves. The RAF searched for 4 days before declaring Eric and the crew from No. 269 Squadron lost in action. 
Eric has no known grave and is commemorated on Chatham Naval Memorial just over a mile from his first posting as a War Artist.
First Officer Amy Johnson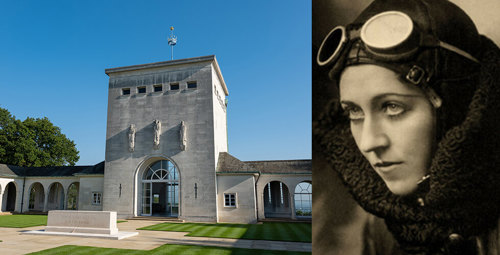 Runnymede Memorial and First Officer Amy Johnson.
First Officer Amy Johnson was the first female pilot to fly alone from Britain to Australia and she set numerous long-distance flying records during the 1930s. Born in 1903, she grew up in Yorkshire. She first started to fly in the late 1920s and received her pilots licence in 1929. 
Amy achieved global fame when she made her 11,000 mile solo journey from Australia to Britain. She went on to become an international superstar and female icon.
During World War Two, she volunteered for the Air Transport Auxiliary which transported military aircraft throughout the British Isles. Amy died on 5 January 1941 when her aircraft ran out of fuel and she parachuted into the freezing Thames Estuary near Herne Bay. Desperate efforts were made to save her - Lt Commander Walter Fletcher died of hypothermia after diving into the water to help - but she was never found.
Amy has no known grave and is commemorated on the CWGC Runnymede Memorial.
Sergeant Isikeli Doviverata Komaisavai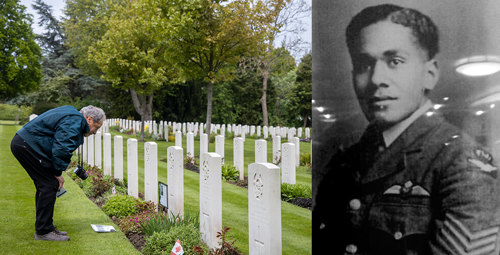 Harrogate (Stonefall) Cemetery and Sergeant Isikeli Doviverata Komaisavai.
Sergeant Isikeli Doviverata Komaisavai - known as 'Ratu Dovi' - was a descendant of the Fijian King Cakobau and the son of a High Chief. He studied at Wanganui College, New Zealand, before returning to Fiji to train as a surveyor. After Dunkirk and the Battle of Britain, Ratu Dovi read that Britain needed every able-bodied man and asked his father for permission to volunteer to serve. With a family motto of, 'Fear God and honour the King' his father was duty-bound to let him go.
In 1942, Ratu Dovi was accepted into the Royal Air Force (RAF) at the age of 21 and is believed to be the only black Fijian to have flown with the RAF during World War Two. He trained in Canada before joining No. 234 (Madras Presidency) Squadron, based on the South coast of England. 
He went on to fly Spitfires defending southern England from attack and searching for German aircraft over occupied France and the low countries. From January to June 1943, the squadron moved to the Orkney Islands where it protected Atlantic convoys before returning to the south coast to support Operation Overlord, or D-Day, and the liberation of France. In early 1944, Ratu Dovi was diagnosed with lung disease and was hospitalised. He died in Aylesbury, in October, and was laid to rest soon after. (Elizabeth Smith)
The inscription on Ratu Dovi's headstone is written in Fijian: ME VAKAVINAVINAKATAKI GA NA YACAI JIOVA JOPE 1.21. This translates as: Thanks be to the Lord's name (Job 1:21). 
Ratu is buried at Harrogate (Stonefall) Cemetery.
Vice Admiral Norman Atherton Wodehouse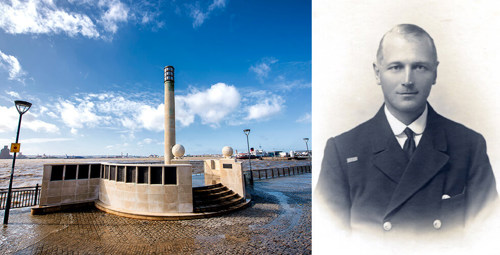 Liverpool Naval Memorial and Vice Admiral Norman Atherton Wodehouse.
Vice Admiral Norman Atherton Wodehouse enrolled in the Royal Naval College at age 15 and was selected to represent the Royal Navy in 1907. Norman earned his first England cap, in rugby union, against France in 1910 and went on to help his side to a first outright Championship since 1892. He was promoted to captain at the end of the 1912 season. The following year he became the first English captain to lead his side to a clean-sweep of victories, an achievement now known as a Grand Slam. 
During the Great war, Norman served in the battleship HMS Revenge which became engaged in the Battle of Jutland. After the battle, he received a medal for having left his own ship to save the life of a drowning seaman, who had fallen overboard from a different vessel. He remained in the Royal Navy after the war and had attained the rank of admiral by retirement. 
World War Two cut short his retirement and he was recalled to active service in May 1939. He took command of a convoy heading south along the western coast of Africa. He was killed when the merchant vessel Robert L. Holt was sunk by U-69 on 4 July 1941. Norman ordered his ships to scatter, an action which saved many lives but unfortunately not his own. (World Rugby Museum)
Norman has no known grave and is commemorated on the Liverpool Naval Memorial. 
Boy Reginald Earnshaw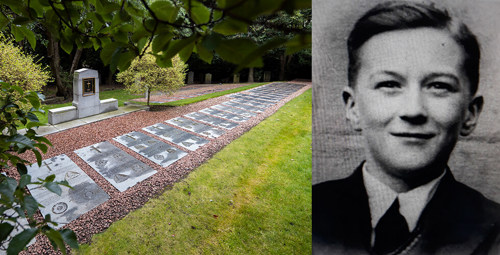 Edinburgh Comely Bank Cemetery and Boy Reginald Earnshaw.
Fame could perhaps also include those whose lives had tragically been cut so short so young and are therefore well visited today. Boy Reginald Earnshaw famous for being the youngest known casualty of World War Two, aged just 14 when he was killed in July 1941. He had lied about his age on leaving school and joined the merchant marine. 
He was born in Yorkshire but had been living in Edinburgh so is buried in Edinburgh Comely Bank Cemetery. However, it was a long time before it was appreciated that he was entitled to a Commonwealth War Grave. In fact, it wasn't until many years later when his ship mate came looking for him which led to the installation of a CWGC headstone at his grave in 2009. 
You may also like: How to find and visit war graves in France
War Graves in Britain Search
Commission cemeteries and memorials can be found in over 150 countries around the world, including Great Britain. 
Find out more about the casualties commemorated in the UK and take a moment to visit the war graves on your doorstep, famous or not.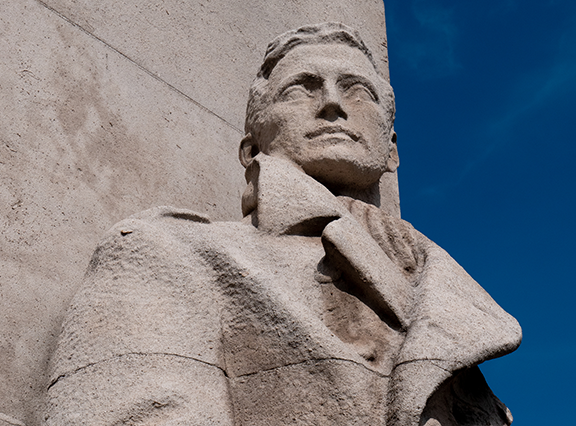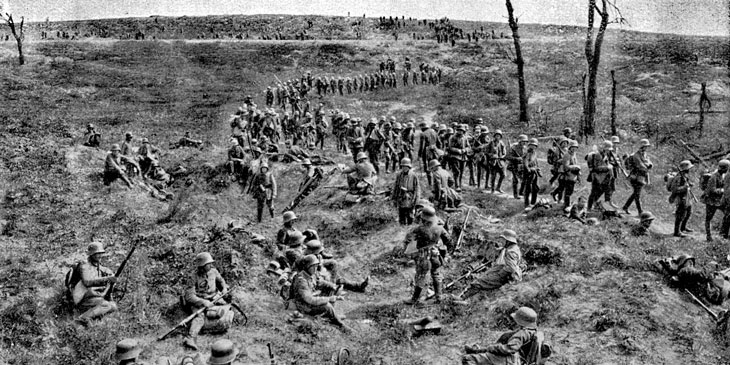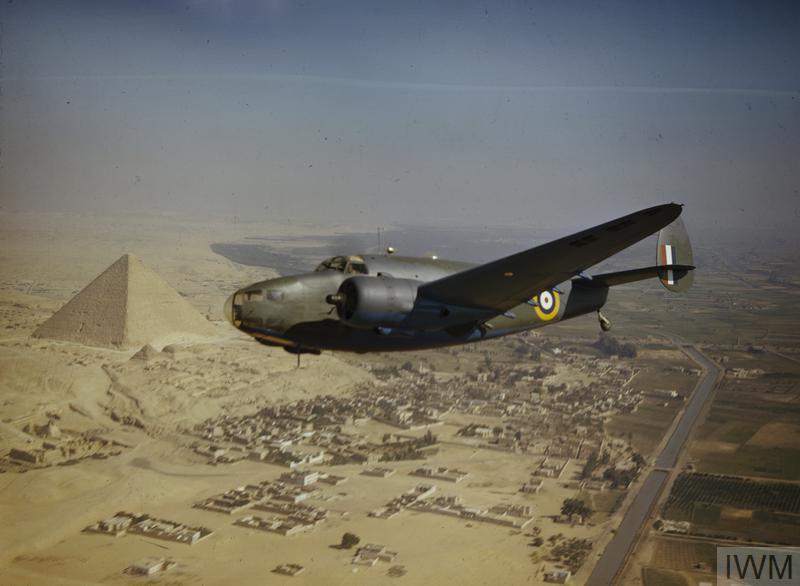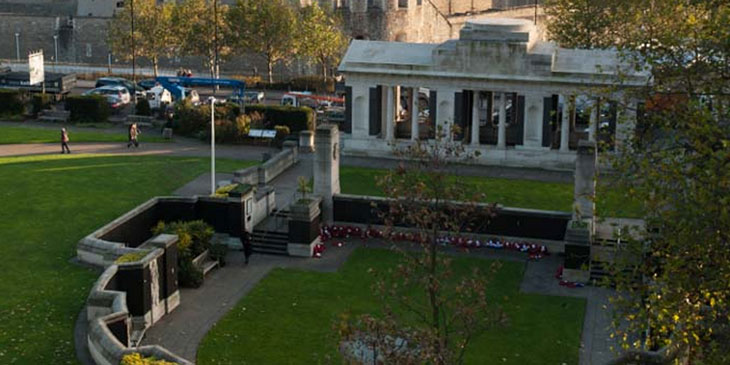 Read more blogs